So you're consistently billing top of your game each month, but it's not just about reaching targets and making money to you. Want to know how to get promoted further up the ranks at your recruitment agency? Here are a few things you can start implementing today that could see you being promoted from recruiter to senior consultant in no time.
1. Be a talent consultant first and a recruiter second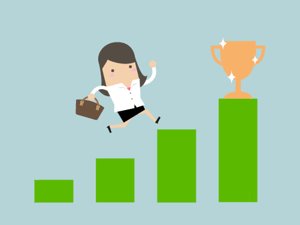 Remember your job isn't just to take orders from hiring managers – you're there to advise your client on your specialist area of recruitment too (using your valuable database to back up your claims).
Focus on creating a balance between keeping hiring managers happy and challenging them as an expert. Are they expecting too much for the salary they're proposing? Are they looking for a purple squirrel that, if we're being honest, really just doesn't exist?
If you think something isn't sitting right with a particular role or requirement that your client is looking for, discuss the situation in full and ask all the right questions until you're both on the same page.
Essentially, it's those who work in partnership with their clients who get promoted, whilst those who simply take orders, don't!
2. Know your tech
There's no two ways about it these days: if you want to accelerate quickly in recruitment, you're going to need to be confident with tech.
There are a few reasons for this, but the main ones that spring to mind are…
The tech savvy recruiter has a strong personal brand online - they have 20% more than average followers on all their social channels, use video in their posts for maximum engagement and have built an online reputation as an expert
They're adaptable and keen for change, always pitching for the agency to try out new tech and platforms
They know how to maximise recruitment software in a way that helps them get more value from their database, and make better hires in less time.
In short - agency managers know these kinds of tech savvy recruiters are an investment for the business.
3. Show leadership – but as a team player
It's true that many top-billing recruiters prefer to work alone as a one-man band, but it's worth noting that whilst it's likely this behaviour will make you good money, it isn't likely to get you promoted.
Showing an interest in your team (for example, recognising when others need support and providing it when you can, congratulating them on achievements, etc.) speaks volumes about your leadership skills and won't go unnoticed.
It demonstrates that you have greater interest in the success of the business rather than just your own success and personal gains.
4. Get a mentor
Asking for guidance is a strength, not a weakness. It shows you're taking ownership of your desk, identifying gaps in your knowledge and embracing the idea that you can never know everything about your industry – and these are the kinds of employees who climb the ranks quickly in recruitment.
With their years of experience and knowledge of the market, a carefully-chosen mentor will help you grow, adapt and be the best recruiter you can possibly be.
And if you're not convinced, just look at the data - employees with a mentor get promoted on average five times more often than those without and are 20% more likely to get a raise too.
5. Be adaptable
As you'll be well aware, no two days are the same in this job, and with each day comes brand new challenges. Those employees who demonstrate they're adaptable, love a challenge and enjoy throwing themselves out of their comfort zones are very promotable.
The higher you climb in recruitment, the less predictable and more volatile your job will become, so you need to show you're adaptable to change and remain calm and positive in the face of stress.
If you're really keen to ramp up your career progression in recruitment, download the eBook below to find out how to set goals that will push you to the top of the leader board, quick-sharp!
Lisa Dey
Lisa has been working as a temp recruiter for a number of years. In her spare time, she loves going hillwalking with her daughter.
Subscribe to our blog and receive top content to help you reach, engage and recruit more effectively!