It's likely the idea of working alongside your competitors on roles makes you shudder. Recruitment is a competitive industry, so this is never going to be a strategy that works for everyone.
But what if I told you that with the right partnerships in place, working with your competitors can bring you huge gains?
Here's a run through of just some of the benefits of working closely with your recruitment competitors and the steps you need to make it work.
The benefits of working with a competitor
Working with your competitors instead of against them is a leftfield strategy, so it's likely you're needing some convincing right now. Here's a few benefits to consider: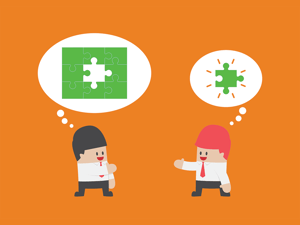 Fill the gaps – Deep down, we all know there's no such thing as a 'perfect' network – you'll always have unfilled jobs and candidates you just can't place. But if you partner up with a competitor and agree to share jobs that you're both struggling to fill, suddenly you'll see gaps filling up and placements being made. Make sure you agree to split the fee in advance so everyone comes out a winner.
Work outside of your specialism – By working with a recruiter outside of your specialism you'll be able to expand your service offering and improve your network as a result. With greater sector reach, you'll be able to take on jobs from your clients even when they fall outside of your usual niche rather than letting them go to another agency that you don't have a good relationship with.
Compete with bigger agencies – Even if you're an expert in your market and have an established network to your name, the bigger agencies will always have more resources under their belt. By teaming up with another small agency, suddenly you're able to even the score and can take on larger hiring projects as you'll have the additional cred and manpower.
Show you're an innovative recruiter – Thinking outside of the box and working with other recruiters to fill roles will give your clients confidence that filling roles for them comes before having ownership of hiring projects. This will make you stand out as a recruiter who isn't afraid to try something different to get the job done.
4 steps to working with your competitors to fill more jobs
So now you know the potential benefits of working roles with your competitors, how do you actually make it work in practice? Here's how…
Step 1: Choose the right partner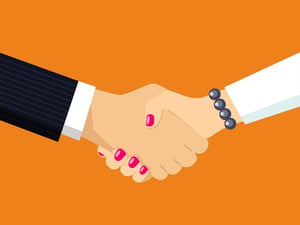 Choosing the right partner to team up with is always going to be the most important step in this process. Choose the wrong competitor and it could harm your reputation and put you off this strategy completely, so take your time, do your research and be as picky as you need to be.
Avoid working with your direct competitors as it's unlikely they can add anything to your service offering – you'll only reach the exact same markets and regions. Instead, work out the key things a partner could bring to fill the gaps in your network and open you up to other industries.
The ideal partner will have a sound reputation and come highly recommended. Joining a split fee recruitment network like TEAM (for UK agencies) will help you reach a bank of established and fully vetted recruiters looking to share jobs.
It's also good to ask your trusted clients and candidates for recommendations – they'll likely let you know who not to work with too.
Step 2: Make a compelling offer
Once you've worked out who you want to team up with, it's time to put together a compelling offer that you can approach them with.
The idea of a partnership isn't on the cards for some, so you need an offer that will convince them it's worth their time.
Focus on the gaps you can fill for them and the benefits they can expect from the partnership. Any experienced recruiter will also want to know exactly who they're partnering up with so be prepared to talk up your unique selling points and achievements.
Step 3: Establish some ground rules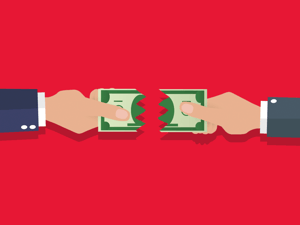 For the partnership to work for everyone, both parties need to know exactly what they've signed up for.

So before you move any further, establish the following and get it in writing:
What is the overall objective of the partnership?
Who deals with the client?
Who deals with the candidates?
Can the role be advertised?
What the Terms of Business and payment terms are with the client
Who is responsible for compliance and what lies with the client?
How candidate CVs will be branded – which agency will go on the header and footer?
How is the fee going to be split?
Establishing these ground rules at the start is the best way to avoid wires getting crossed later down the line.
Step 4: Split the fee fairly
Deciding how you split the recruitment fees needs to be a transparent and fair discussion. The proportion of the split comes down to who is doing what, and how well you can negotiate with your partner.
No matter what kind of split you choose, the most important thing is to have the right documentation in place to ensure you and your agency are covered. To help you we've created a split fee template. Download it below.
David Connolly
David is a Senior Growth Outreach Specialist at Firefish. After working as a 360 recruiter, he loves innovating recruitment with Firefish Software.
Subscribe to our blog and receive top content to help you reach, engage and recruit more effectively!