Your prospect's inbox will be getting overloaded with emails from keen recruiters like you right now – so grabbing their attention is difficult in this job-short market.
To stand out from the crowd, why not switch out your standard 'I hope you're well' and try some of these funny email openers that will make your prospect, client or candidate chuckle (and hopefully reply)…
1. 'I hope your day is going better than 2020'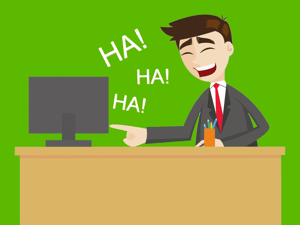 It can be hard to find common ground with prospects sometimes, but there's one thing we can all agree with.
2020 was a sh*t-show!
If the best thing that comes out of this year is the chance to bond with a frosty prospect or disengaged candidate, that's something at least.
2. 'I hope you're staying positive and testing negative'
Only in a global pandemic do you have the opportunity to make a joke like this, and what a way to turn something negative into a positive - literally!
It's a light-hearted way of writing the standard email opener of 2020, 'I hope you're staying safe…' – and you might give your recipient a laugh.
3. 'Happy Quarantine-mas!'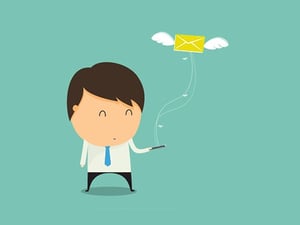 With Christmas around the corner – why not give those your prospects a giggle with this festive lockdown pun?
Your email will certainly stand out compared to your competitors' generic 'Merry Christmas' messages this December.
And when busy January comes around, you'll be remembered.
4. 'Happy New Year – we made it!'
There's nothing more exciting right now than seeing the back of 2020. It's been a slog, and it's pretty amazing to think we made it through the worst year most of us will live through.
We might be a little worse for wear after this year, but it's nice to remind your prospects (and yourself!) that 2020 is over and we can start looking forward to 2021.
5. 'First of all, here's a festive a gif-t for you…'
We're all suckers for a funny gif and a cheesy pun (don't try to deny it!). So, why not mix up your email outreach with a festive gif to make them smile?
It's guaranteed to grab your prospects attention and make them chuckle this Christmas.
6. 'I hope you're not snowed under with work this Christmas'
This is the perfect opener for a client who's always busy.
And who knows - this funny email opener might convince them to finally reply to your emails.
7. 'I ho, ho, ho, hope you're not sick of all things Christmas by now'
We all know at least one person who's already sick of Christmas by December 1st.
So try out this Grinch-friendly opener on prospects who are more Scrooge than Santa.
Sending your sales prospects a great email can win you business. Use the templates below to ensure you get your sales emails right.
Sophie Cunningham
Sophie is a Content Marketer here at Firefish! After working as a 360 Recruiter she found her perfect niche here at Firefish writing about recruitment.
Subscribe to our blog and receive top content to help you reach, engage and recruit more effectively!