Social media is one of the most effective ways to grow your brand, but managing multiple accounts and figuring out when will make the best impact can be a challenge. We've done the research, and pinned down the best times to post on social media in relation to traffic, engagement, and follower generation – so you don't have to.
So, when should you post on social media? The easy answer: when the people you want to see your content are using it!
One time fits all?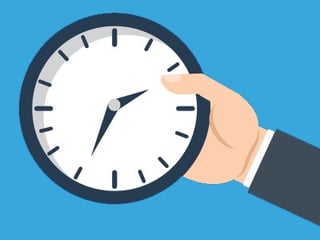 The process of perfectly timing your tweets isn't the same as learning the art of the LinkedIn update. Each social media platform attracts a different audience; their usage of social media is often poles apart, so unfortunately it's not as easy as saying 'here are the best times to post on social media' and you simply getting on with it.
Twitter
Multiple studies have shown that the best day to post on Twitter is Wednesday. Timing estimates vary by sector, but in general it's best to stick to commuting times – i.e. between 7am and 9am, and between 5pm and 7pm. Lunchtimes are always a good slot for engagement too; a study by marketing scientist Dan Zarrella showed that tweets posted after 12pm had higher click-through-rates than tweets posted during morning hours.
Facebook
When it comes to Facebook, engagement gets better over the course of the week. Whilst Thursdays and Fridays are shown to be high-impact days, engagement is 3.5% lower on Mondays, Tuesdays and Wednesdays.
Peak timings also differ depending on your post's goals. Maximise reach on posts you want to be shared by scheduling them for 1pm, but if your aim is to increase your click-through-rate, post around the 3pm mark.
LinkedIn
LinkedIn is a different beast compared to Facebook and Twitter because the audience is primarily corporate or business focussed. Put bluntly, getting caught using LinkedIn at work is significantly better than being caught on Facebook, and the optimal posting times reflect this!

Data from 14 million users revealed that the prime posting time for LinkedIn is Tuesdays, between 10am and 11am. LinkedIn is primarily used as a means of reaching a B2B audience, and it's influence is mighty: 93% of B2B marketers rate LinkedIn as their top social media lead generation source, so consider that Tuesday morning slot your goldmine!
What about time zones?
Thanks to Skype, WhatsApp and Zoom, many businesses are now working with clients on a global scale. But varying time-zones have become a growing concern, especially when it comes to posting on social media.
Take some time to review your current client base, and take a strategic look at which regional audience you want to reach with your postings. For example, if you're targeting a US audience, it might be a good idea to start with posting relative to Eastern Time and Central Time – covering both of these time-zones will allow you to reach over 75% of the total US population.
It's also worth checking out studies like Smart Insights' Global Social Media Research Summary, and We Are Social's annual Digital Global Overview to give you a starting point for locations outside of your base.
"I'm too busy for impeccably planned content!"
I hear you. Keep up with timed posts across multiple social media channels, and tailoring content to more than one time-zone sounds like a nightmare. But don't worry, that's why content scheduling tools like Hootsuite exist! These nifty tools allow you to schedule posts on LinkedIn, Facebook, Twitter and more, weeks in advance and at the times you deem best.
If you're not getting the engagement you're expecting on your social media platforms, there are tools to help with specific channels too. Tweriod, as the name suggests, is a Twitter-based tool that lets you analyse when your own followers are most active – and the initial analysis is free.
The best times to share your social content takes consideration; there's no point in posting in the middle of the night – by the time your audience wakes up your post will be lost among other content in their feeds. Start by using our guide to developing a social media strategy (download below!), then analyse the engagement you get as a result.
Continuing to tweak and re-analyse the times you post on social media will ensure you maximise traffic, and this will ultimately pay off when you begin seeing a higher customer engagement.