Twitter turned 15 years old in 2021, and for the last decade, it's had a firm place in recruitment.
But these days, you're more likely to hear about why you need to embrace Clubhouse or TikTok if you want to update your social recruitment strategy.
With so many new channels appearing on the social media market, this got us thinking – is Twitter becoming a waste of time and effort for recruiters? Let's dive in and look at the facts.
Reasons to still love Twitter for recruiting
1. Twitter is the third most-used social media platform
Twitter might not be the talking point of the recruitment industry right now, but with 353 million users a month, it's still the third most-used social media app (behind Facebook and Instagram). To put this into context, LinkedIn has 27 million fewer users per month.
2. You don't have to pay to play
Unlike LinkedIn, Twitter doesn't require you to spend money on any type of premium subscription to view extra profiles, or send more DMs. So in theory, you have access to every public profile out there.
3. Twitter is great for branding
There's no doubt about it, Twitter continues to be a great place to build and showcase your brand. Everything you post, share and engage with on the platform helps candidates, clients and prospects get a better understanding of who you are and what you stand for.
And research also tells us that candidates are more likely to go with recruiters that have a strong personal brand – proof that Twitter still has a place in recruitment.
3. There's more potential to make a lot of noise
On LinkedIn, the more you post in a 24 hrs the less exposure each post gets – this means you need to have a fine-tuned schedule in place. But thankfully, Twitter's algorithm doesn't operate like this.
Instead, it's recommended that businesses post up to 15 tweets a day for maximum impact. Without being limited to a tweet a day (which you'll likely need for a job ad) Twitter allows you to publish and promote a diverse range of content.
Better still, you have the freedom to be reactive and spontaneous with your tweets. Without the need to monitor the quantity of your posts, you can respond to events or trends in live time knowing all your tweets will be seen. At the heart of it, this is what social media is all about!
4. Tweets appear in Google searches
Let's do a quick experiment: if you Google your brand name, what do you see? If you're active on Twitter you should be looking at your most recent tweets in a carousel format - this is something we love about Twitter!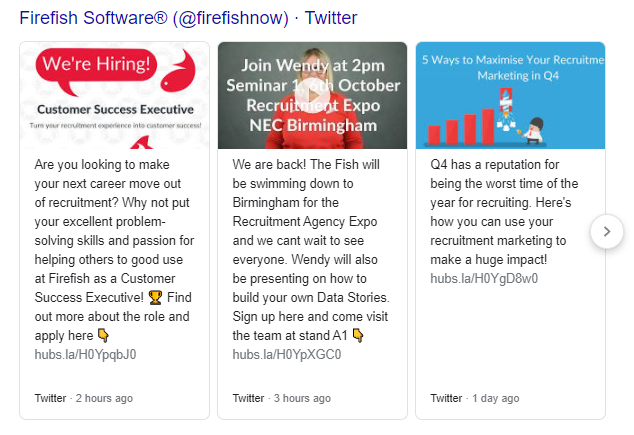 The average lifespan of a Tweet is around 18 minutes, but thanks to this carousel feature, your posts stay visible for longer. This means any candidates or prospects using organic search can instantly see how active you are on Twitter and gain a richer understanding of the type of content and topics you're talking about. It's also another way of driving people right back to your website.
Reasons Twitter isn't worth your time
1. Twitter is quite anonymous
Unlike LinkedIn, or even Facebook, Twitter never prompts its users to fill in any professional details. This means getting the right candidate information, such as an in-depth career history or a list of qualifications, is a real long shot.
At best, you'll get a bio that features a job title and location. At worst, you'll have a string of emojis to go off – this is a clear disadvantage for sourcing candidates.
2. It's hard to sell jobs in 280 characters
With only 280 characters to work with (or around 200 after you've added a link) Twitter makes it hard to sell both the role and the company all in one post.
With a shorter word count, you've really got to get creative with your job ads. You need to be super selective with the language, image and any extra content you use if you want to stop a candidate from scrolling right past your tweet.
3. Twitter doesn't have a jobs section
Unlike Facebook, Twitter has never opted to add an official jobs section which definitely loses the platform some brownie points.
Without a dedicated section for advertising available positions, it's not easy to target active candidates looking for roles in the right profession or location. In my experience, this can bring in plenty of candidates that aren't necessarily a good geographical or professional fit for the role.
The verdict…
All in all, I think Twitter still has a firm place in recruitment but it should never be used as your primary social media platform. Despite it being the third most-used platform, Twitter doesn't have the best functionality or essential information you need to source top talent.
But Twitter is one of the better platforms for publishing a variety of content and strengthening your brand. Keep up your Twitter presence as part of your overall strategy, just don't make it the only pond you fish in!
For tips on how to get the most out of Twitter for recruitment download the eBook below.
Andrew Watson
As Product Marketing Executive Andrew shows off all the Firefish features that help change the way you recruit. Keep an eye on our news page and social channels to see what's new with Firefish each month!
Subscribe to our blog and receive top content to help you reach, engage and recruit more effectively!