Your BD strategy may be tight, but if you don't have a positive reputation as a recruiter, your strategy won't get you anywhere. Your reputation precedes you in this industry, which is why building trust within your network is so essential to success. Here's some tips on how to increase your credibility within your candidate and client network, and generate more business as a result.
1. Know your stuff
You can't fake being an expert in your field, so if you can demonstrate you know your niche inside out, clients and candidates will deem you credible, and this will do wonders for building and strengthening your network.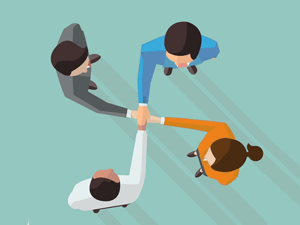 Never pick up the phone to someone within your network without doing your homework first. You need to go in there not just knowing your contact's name and the company they work for – where's the expertise in that?
I'm talking about real homework: What's the current market rate for the roles they're currently recruiting for? Are these candidate in high or low supply? If you get a prospect on the phone without arming yourself with the necessary knowledge first, you'll only undermine your expertise.
Building credibility by being visible and valuable in online spaces will also eventually convert your audience into business leads, but credibility takes time to build. And remember that social selling isn't about you, but about how you provide solutions to your audience's pain points in a way that builds your credibility as someone who knows their stuff.
2. Deliver on your word
If there's one thing that first springs to mind when you think of a trustworthy person, it's probably that their actions align well with their words.
For example, setting out timelines and deadlines with clients and candidates isn't just polite chit-chat – we do this for a reason! If you call a candidate within the timeframe you say you're going to, or present all those stellar candidates to your client within the timeframe you promised, this won't go unnoticed.
Make your own life easier by managing expectations from the start – ask all the right questions to show your client they're in safe hands, set clear timelines based on the answers and never overpromise so you never underdeliver!
3. Demonstrate integrity
We all prefer to work with people we find likable, but unfortunately there are some recruiters in the business who have given the rest of us a bad reputation for lack of honesty and integrity.
Publicly bad-mouthing your competitors, your candidates or your client's competitors (whether you name them or not) will never help you build trust, even if in the moment it feels like it could bring you that bit closer to your client. It's a cheap shot, and clients see straight through it!
4. Make recommendations
Connecting your best contacts with each other will always reflect positively on you, as you'll be seen as someone who isn't purely in it for themselves. Just take care to make sure these are intros you actually think will mutually benefit both parties!
Taking the time to create LinkedIn recommendations for people you've worked closely with is also a great way to score trust points – and it's likely they'll return that favour (provided you have a substantial work history and aren't just doing it to score points, which has the opposite effect).
If your agency has any client testimonials online, sharing these on LinkedIn is a sure-fire way to demonstrate that you're a recruiter worth trusting.
Focusing on these four points will not only help you build a trustworthy reputation within your network, but it'll help push your personal branding up a few levels so you can reap some long-term rewards.
Download the eBook below to get started on your social selling strategy!
Joanne Causer
Joanne is a Senior Growth Specialist at Firefish. She loves bringing on board new recruiters who are looking to recruit smarter.
Subscribe to our blog and receive top content to help you reach, engage and recruit more effectively!