Despite every recruiter knowing just how candidate-driven the job market is right now, it's crazy how little time and effort we dedicate to improving our sourcing skills.
Let's take a look at some stats that show why upping your sourcing game should be your number one priority right now and most importantly of all – how to start finding candidates like a world-class sourcer!
Stat #1: Employment is at all time high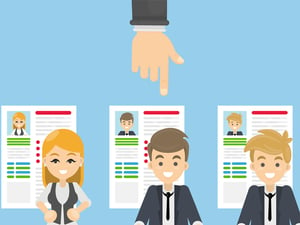 According to the ONS (Office for National Statistics), the number of people in work has reached a record high of 32.6 million.
You might be thinking 'high employment? That can only be good news!' and I'm not here to rain on your parade… promise. But consider this: If more people are employed, there's less people looking for jobs and this means fewer active candidates on the market.
With fewer active candidates on the market, your passive candidate sourcing strategy needs to be A+!
Stat #2: Job vacancies are increasing
Despite employment rates being at an all-time high, data shows there still aren't enough candidates to fill every vacancy!
At the start of this year, the number of job vacancies in the UK reached 870,000 – the highest number since 2001 – and the struggle to fill vacancies is felt across every sector.
Having less candidates to consider for each vacancy is a clear indication that it's time to think really carefully about how we spend our time: With more jobs to fill, you can justify investing more time on sourcing as you're going to have to proactively seek out the candidates you need.
Stat #3: There's a candidate skills shortage
According to a recent survey, as much as 91% of UK organisations struggled to find workers with the right skill set in 2018 – and 61% said the situation was only getting worse.
The good news is, as an expert in your industry, you can really thrive in this type of market. You know how to search for niche skills and understand which other industries have transferable skills and experience. As organisations continue to struggle to find the right talent, your expertise will become indispensable – making you indispensable.
Another positive is that skills shortages push wages up and higher salaries make it easier to hook in passive candidates (and for agency recruiters, this means higher commission too!). But whether you're in-house or an agency recruiter, sharpening your sourcing skills will give you the edge you need to find those candidates no one else is finding.
Which is why we've just published an eBook that will help you build an awesome candidate sourcing strategy – click below to download and ride this skills shortage wave like a pro!
Sophie Cunningham
Sophie is a Content Marketer here at Firefish! After working as a 360 Recruiter she found her perfect niche here at Firefish writing about recruitment.
Subscribe to our blog and receive top content to help you reach, engage and recruit more effectively!