No matter how great your website is, if it's not appearing in search engine results (Google, Bing, etc.) you're missing out on quality candidates. At the moment, job boards and major recruitment industry players heavily dominate job-seeker search results, but there is a way you can boost your agency brand to the top of the page without breaking the bank – and it's PPC advertising.
What is PPC?
Pay-Per-Click (PPC) advertising is exactly what it says on the tin: It's a form of advertising where you pay a set amount of money each time someone clicks on your ad on a search engine results page. Here's an example of of a PPC ad run by Michael Page: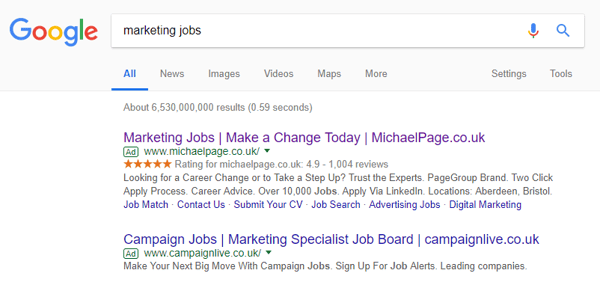 The price you pay per click varies widely depending on various factors, including the platform you use, your targeted audience, or even the time of day/week you choose to appear in searches.
You'll be given an idea of the estimated costs in advance, which makes it easier for you to plan your PPC campaign and keep tabs on your overall budget.
Why recruiters should care about PPC
You've probably noticed how much harder it is to get your agency brand noticed in search results nowadays using an organic SEO strategy.
Gaining a spot on the first page has become a lot more difficult in the last couple of years, and the recent launch of Google for Jobs has just made it even more difficult, as the feature pushes organic search results even further down.
As you can see from the image below, PPC ads still appear at the top of the page, even above Google for Jobs results, so it's a really good time to start thinking about PPC advertising.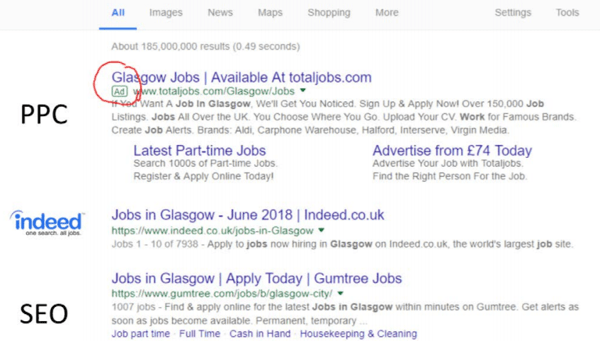 Does PPC in recruitment really work?
Allocating some of your recruitment campaign budget to search can be lucrative, and agencies have reported great results – in fact, this agency even revealed they're pulling in 14-23% of all new candidates directly from PPC!
Thanks to the in-depth targeting options available when you use PPC, you can ensure you're always spending your budget reaching the most relevant candidates for your jobs. Another bonus is that the more niche job search terms are easier and cheaper to target, meaning those specialist, hard-to-fill roles will cost less to advertise for.
How to get started with a PPC in recruitment
If you're already trying out paid social media advertising, then you'll follow much the same process for running paid search campaigns. But, old hand or not, we've got a step-by-step to guide you through:
Make sure your recruitment website and job pages are in good shape. There's no point in spending money to get clicks if your pages aren't going to convert!
Have a think about which keywords your ideal candidate might search for when they're looking for a role like the one you're advertising (e.g. Product Marketing jobs London)
Test your keywords with Google's Keyword planner tool – this will tell you which words are searched for often (and are therefore likely going to be expensive to target), and which ones are searched for less as they're more specialised but are still very relevant (meaning they're probably going to be more affordable).
Sign up for a Google AdWords account, and follow the set-up instructions so you can start bidding on your relevant pages. Note: If you get to this stage and are feeling unsure about what to bid on, you might find it helpful to set a maximum Cost-Per-Click (CPC), and let the auto-bidding tool do the work for you. This will bid on keywords automatically and display your ad where it deems will get you the best value for money.
Retarget candidates who visit your jobs pages on Facebook by following this guide to installing a pixel on your website.
Pros and Cons of PPC
As with anything that involves spending cash, it's important to have a clear picture of the pros and cons of PPC recruitment before getting started. Here they are!

Pros
Research has shown that visitors who come to your website through PPC view more pages and spend longer on site than visitors from other sources – and they're more likely to be new visitors too.
You only pay out if a candidate actually clicks your ad, so views of your ad are free. This means your budget is reserved for people who are actually interested in your vacancy.
Setting up your PPC campaign is easy, and you can test different strategies without wasting too much money or time.
You'll have access to great tracking and reporting of your campaigns so you can see if you're getting the right ROI for it.
Cons
Your ads can be vulnerable to forms of click fraud (for example, if a competitor or bot clicks your ad repeatedly to drain your budget) or you could end up paying out for clicks that have no value to you as a recruiter. However, Google's advertising dashboard is set up to protect you from this – it notifies you of any unexpected activity on your ads so you can take action as soon as possible.
As mentioned earlier, you pay for clicks, not applications, so you could pay for lots of clicks from job seekers with your titles and meta descriptions only to end up receiving no applications. The obvious solution to this one is to make sure your job adverts are designed to really wow readers, and most importantly – deliver on what they promise on search pages.
If you use PPC to advertise positions that are really popular, this will actually work against you as you'll end up shelling out to pull in candidates to roles you could probably fill by other means. Focus your budget on those hard-to-fill/niche roles by paying close attention to the keywords you're targeting.
Whilst PPC can be a really lucrative booster to your recruitment campaigns, the ultimate strategy for dominating search page results nowadays would be to use PPC advertising in conjunction with Google for Jobs (which is free!). Find out everything you need to know to get started with Google for Jobs by downloading our playbook below.
Christine Stark
Christine is a Digital Marketer with experience managing communications across a variety of sectors. She loves caffeine, cosy jumpers and cocktails.
Subscribe to our blog and receive top content to help you reach, engage and recruit more effectively!