A good job ad takes time and effort to craft, so it's disappointing when you post what you think is a compelling ad for a role, only to see the number of applications trickle in at a snail's pace. The trouble is, well-written job ads can pull in plenty of page views, but if these aren't converting into qualified candidates, what's the point?
If you're finding that your job ads are pulling in lots of traffic but struggling to convert them into applicants, here are a few reasons this could be happening…
1. There's no clear call-to-action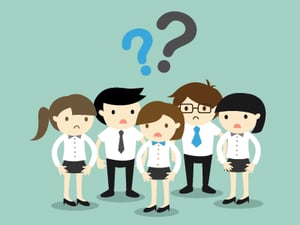 So you've successfully pulled in candidates to view your job ad – congratulations! But why are they not taking the next step to apply?

Often, the issue can be that you're giving candidates too much to think about. Every time you point a candidate to a different page for more information (no matter how useful or relevant it is!) before they reach the 'apply' button, you risk losing them.
Take a look at your job pages with fresh eyes, and consider doing the following:
Remove any links above the 'apply' button
Slim down on extraneous text
Tidy up menus
Avoid placing 'similar jobs' and other extra information above your call-to-action
Likewise, if you don't have a large, prominent 'apply now' button on your ads and instead make candidates hunt for the next step, you're sabotaging your efforts. The clearer the next step is to take, the more likely candidates will take the leap. Simple as that!
2. The job location isn't clear
Withholding the location of a job will definitely put candidates off applying when they reach your job advert: why make the effort to apply for an opportunity when you've no idea where the job is?
Not only does withholding location affect conversion, but it can now prevent your job ads from getting found by candidates too. You've seen the press about Google for Jobs, and as it rolls out, only the most transparent job adverts will make it onto search results. If your job ad is missing a location, Google for Jobs won't include it in searches, leaving your competitors free to take the top spot (and top candidates!).
3. You're using too much jargon
When writing your job advert, you might think using industry jargon that only qualified candidates understand will help sort the wheat from the chaff by discouraging unqualified candidates and pulling in the talent you need. However, you'd be wrong.
Niche or vague words and phrases don't belong in job ads – they're terrible for SEO, and they're not candidate-friendly either.
Job ad jargon is unengaging to read can be intimidating even to the most qualified of candidates. And if that's not enough, you could be unintentionally discriminating against candidates you'd like to hear from.
4. You're not conveying urgency
For people who work in sales, creating a sense of urgency during promotion is crucial to convincing a customer to buy. And it's no different when you're 'selling' a job to candidates!
If your job advert isn't making a candidate feel like they need to apply right at that moment, they're unlikely to ever apply at all.
As we all know, life gets in the way of remembering to go back to things you mean to complete, so if you want to convert candidates, you need to make them feel like applying for your role is a top priority.
Remember to take into account who it is you're talking to in your ads, and use the right words and phrases likely to push their buttons.
Here's a list of some words to consider including in order to promote urgency in your job ads.
5. You're not reaching the right candidates with your ad
Last but not least, if you're not pulling in the relevant candidates to view your job ads, you're not going to see a good conversion rate. Your job ad should be tailored very specifically to appeal to your ideal candidate, so if irrelevant candidates are clicking through, they're not going to be interested in applying.
But why are irrelevant candidates viewing your ads in the first place? This could be down to a number of factors:
A vague headline - There's a time and a place for a little *~mystery~* and job adverts are neither. If your headline is vague, you'll end up pulling in lots of traffic that's not going to convert and are ultimately wasting everyone's time (candidates included!).
The wrong keywords - If you use the wrong keywords in your job ad, it'll be picked up by candidates searching for opportunities you're not advertising for. Use the right keywords to pull in relevant candidates through search engines.
A vague salary bracket (or none!) - This one can be a real killer. Salary brackets are one of the most important factors for jobseekers in understanding if they're qualified for a role or not. Therefore, if you go for an extremely broad bracket, or opt for no disclosed salary at all, you're likely to pull in loads of under-(and over!) qualified candidates.
Poor targeting - Using paid social media adverts is not only crucial to pulling in only the most relevant traffic to your ads, but it's super easy and effective too. And are you fishing where the right fish are? You could be simply be advertising your roles in the wrong places, so do some research into where your ideal candidates spend time, and post your vacancies there.
It's worth thinking about these points every time you create a job ad to ensure you're giving your campaigns the best chance of getting a good conversion rate. Feel free to bookmark this page for reference!
If you need some actionable guidance to get you started, download our job ad templates below.
Christine Stark
Christine is a Digital Marketer with experience managing communications across a variety of sectors. She loves caffeine, cosy jumpers and cocktails.
Subscribe to our blog and receive top content to help you reach, engage and recruit more effectively!