Keeping on top of new marketing trends is extremely beneficial to recruiters, but not everything that comes out of marketing is going to be relevant to our industry, and it can be hard to predict which trends will stick and what will fade away.
We've dug out the proven marketing golden nuggets recruiters can't afford to ignore in 2022!
1. Be authentic, be personal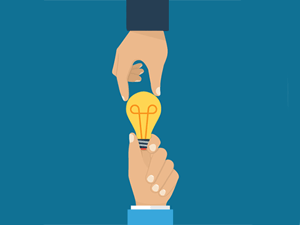 What you need to know:
'Authenticity' was the buzzword for brands marketing in 2021, and this year will be no different. For recruiters, what this boils down to is how genuine you and your brand appear to prospects and candidates online. Personal branding (which is the key to building authenticity) will be a major focus area for recruiters this year if they want to remain competitive in an overcrowded recruitment market.
What you need to do:
Be yourself, be valuable, and communicate dynamically with your market. We ran a Crowdcast with Hung Lee that's full of great info on how to nurture a strong personal brand as a recruiter – watch the replay here.
Do as much social listening as you do social selling within your online networks to ensure you're having the right conversations with the right people at the right time. If someone's asking questions about your area of expertise, jump in there and provide an answer to spark up a new relationship – it could result in a placement somewhere later down the line.
2. Content is still king, but video is queen
What you need to know:
For the last decade or so, the marketing world has been shouting about how important it is to publish great written online content for people (and search engines) to find.
And it turns out, they were right! For those of you who heeded this advice, you'll be pleased to hear that we're now at a stage that consumers (so for us, this means candidates, and if you're agency-side, clients and prospects too) put more trust in information-rich content such as blogs than they do in traditional advertising.
However, the biggest change the marketing world is seeing at the moment with regards to content marketing that recruiters need to be aware of is this: Whilst the written word is still incredibly important for attracting new candidates, video content is taking a big slice of the limelight.
What you need to do: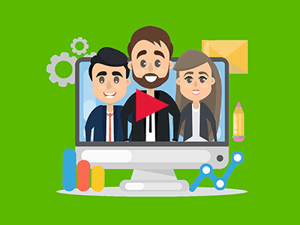 In the past, using video in recruitment has been focused predominantly on screening and interviewing candidates, but in the last six months we are seeing an interesting shift that involves the recruitment industry using video in more creative and fruitful ways.
The real focus moving forward when it comes to video in recruitment is to think about how you can use it in the same way that's working so well in the marketing world already – that is, to promote yourself and your brand in a way that makes candidates and clients come to you.
This year, anyone working in the recruitment industry should be experimenting with using video to…
And if you're worried about how to convince your manager to let you invest time and resources into video, here are 6 stats that prove recruiters need to start using video ASAP!
3. Automation still needs the human touch
What you should know:
Machine learning and automation has become really important in the marketing world because people now expect a level of personalised experience and time-sensitive communication with brands that cannot be sustained manually by humans.
This is a trend that we're already seeing transfer heavily to the recruitment industry, and more and more recruitment teams are using software to automate bulk communications in a way that creates a better and more personalised experience for candidates.
What you should do:
If you're not using some form of recruitment software that has marketing automation included as part of the package, now's the time to shop around! Marketing automation ensures you're sending the right content to the right candidates at the right time, and we all know how important good timing is in recruitment.
But whilst automation carries a lot of the marketing admin burden, there's only so far it can go. For automation to work efficiently and effectively, it still very much relies on humans to 'learn from' and ensure your audience is segmented accurately correctly – otherwise, this causes problems. This infographic explains why…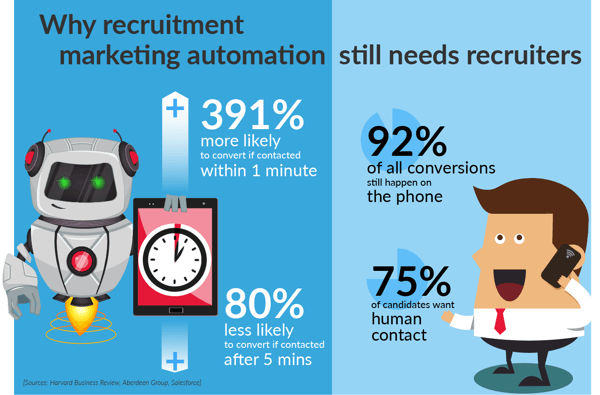 So while it's clear that marketing automation massively increases the chances of candidate conversion, sending irrelevant content to your candidate network can be disastrous – and the only way to make sure this doesn't happen is to keep tabs of your candidate database and ensure it's segmented correctly.
Every good marketing strategy needs a solid plan behind it. Download the eBook below for guidance on how to build a strategy that gets results - plus a free marketing plan template.
Katie Paterson
Katie once headed up the Firefish blog and marketing team. She now works as a freelance copywriter and continues to contribute to our award-winning blog.
Subscribe to our blog and receive top content to help you reach, engage and recruit more effectively!