Your recruitment website might look the part, but when was the last time you gave it a check-up to see how well it's actually performing?
Regular website audits are considered a necessity in a lot of industries, but they're not something we tend to give much thought in recruitment. And this is crazy when you think about it: We're constantly driving candidates and clients to our websites every day in the hope that they'll convert to business, so we need to be confident that they're getting the best experience possible.
So before we get into the technicalities of how to audit your website, let's take a quick look at some of the benefits you'll see in doing this…
The benefits of running a recruitment website audit
It will help you establish what's working and what's not with your website (and potentially lead you to win more business)
It helps you identify and fix any issues (e.g. broken links) that are hindering website performance
It will give you guidance on changes you can make to become more visible on search engines
It will help you stand out from the crowd amongst all the other websites that haven't got great functionality (of which unfortunately there are many in recruitment).
Score your recruitment website
So first thing's first – to see where you are now with your website, enter your URL link into this recruitment website grader to find your current score. The grader will also give you a breakdown of your score based on things like candidate friendliness and online visibility.
Anything above 70 is good, but the aim in doing this audit will be to gradually pull your score up so your website is a solid 80/90. In other words, a real talent magnet!
Which pages should I audit?
Your website will have a lot of pages and it's unlikely you'll have the time to audit them all. So, select ten of your most important pages and audit these to see what you can learn from them.
For example:
Homepage
About us page
Careers section homepage
1 x sample job page
Contact us page
Blog page
If you're unsure which pages to include, hop over to Google Analytics to find your most-visited pages and use some of those.
How to audit and improve your recruitment website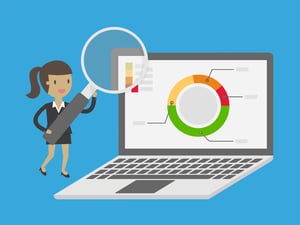 For each of your selected pages, you'll want to assess three main areas: SEO, performance, and what I like to call 'the technical stuff'.
Here's a breakdown of how to approach each section…
1. Your website performance
Website performance is best described as how visitors experience your site and how easy it is to find what they're looking for. The best way to assess website performance is to ask the following questions:
Is the layout clear and simple to navigate? It's easy to think that giving your website visitors as many options as possible is a good thing, but in reality this just results in what's called 'analysis paralysis' – give people too much choice and they become overwhelmed to the point that they do nothing and just leave the website instead. Limit your navigation menu along the top to between three and six items.
Think of the reasons you send people to your website every day: Is it easy for them to find what they need to perform these actions? For example, do you have a 'Send my CV' button for candidates who find your site? Is it easy for clients to find your testimonial pages?
Do web pages load quickly enough? If loading times are slow, this might be because your image files are too big. Try running them through an image compressor like Optimizilla and replace images with a new compressed version to see if this helps.
2. Your website content/ SEO
Search engine optimisation is primarily about making it easier for search engines like Google to find your content and deliver it to the right people. However, there's an additional bonus to making your website SEO-friendly – it makes it user-friendly too.
Consider the following:
Is your website content/copy clear and concise? Industry experts recommend that you keep your website copy clear, short and that you cater to the reading level of a twelve year old.
Does your website content speak to your audience(s)? For example, a recruitment agency's website should speak to both clients and Is this immediately clear to anyone who finds your website?
Do you use the right SEO keywords in your copy? Run your website URL through a keyword tool (Moz Keyword Explorer is free for up to 10 searches per month).
Does your website pose questions and provide answers? Think about how often you type a question into Google when you're looking for something. Use questions in your website copy that you think your candidates and clients will ask – and provide some answers. This is where having a good blog on your website is great for SEO. Here's some guidance on how to start a recruitment blog if you don't have one already.
For more information on how to improve your recruitment website SEO, check out our SEO for recruiters eBook.
3. The technical stuff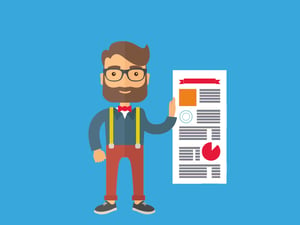 There are many small technicalities to keep a website performing at its best, and a lot of businesses tend to ignore these completely. This stuff isn't difficult to do – it's just about making the time to dip in on a regular basis to make sure everything's running ok.
To keep an eye on this stuff, you can use a free service like Google Search Console, but if you you're taking your SEO seriously, it might be worth taking a free trial of an SEO software like Moz, SE Ranking or SEM Rush.
My website checklist would be:
Broken links – are there any buttons or links on your website that take users to a dead-end page? Use Google Search Console to fish these links out and redirect them to a live page.
Inbound and outbound links – It's recommended that each web page should have two or three outbound links to other pages within your own website. And if you can link back to the page you're working on from other relevant pages on your website this looks good to search engines too. Essentially, you're creating a web of links that suggests people can find all the information they need on different pages of your site.
Calls to action (CTAs) – are all your CTAs working and taking visitors to the right places? For example, if you have a 'Send my CV' button on your homepage that takes visitors to your job pages (instead of to a page where they can register/ upload their CV), this is not a good journey. It also means your CTA is broken and you will get no results. Ensuring your CTAs are doing what they should do is really important to every recruitment website.
Mobile optimisation – is the user experience (otherwise known as 'UX') the same on mobile and tablet as it is on desktop? Any time you change something on your website make sure you test the experience across different devices. As much as 66% of candidates will apply for jobs on mobile, so this is more important than you might think.
Conversions – how many CVs and applications are you getting through your website? If your jobs pages are getting lots of traffic but few conversions, something's not right.
This eBook below will teach you how to turn your recruitment website into a talent magnet that attracts candidates and turns them into placements.
Katie Paterson
Katie once headed up the Firefish blog and marketing team. She now works as a freelance copywriter and continues to contribute to our award-winning blog.
Subscribe to our blog and receive top content to help you reach, engage and recruit more effectively!