Self-development is important in every career, but in a target-centric industry like recruitment, it's essential. Yet it's crazy how little time we dedicate to it – we're so busy running around thinking about how to help our candidates that we forget to stop a minute and think about how we can help ourselves.
If you take self-development seriously, you will become a better recruiter – there's absolutely no doubt about that. So, what can you do to ensure you're always taking steps towards becoming better at your job?
1. Learn something new about your industry every day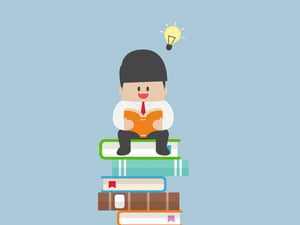 Knowing your industry better than anyone else will always give you an advantage over other recruiters. Your prospects can tell instantly between the recruiters who know what they're talking about and the ones who don't. Therefore, you need to nurture a deep understanding of your industry – if you don't set time aside for this, you'll never become the expert you want to be.
Why not set a daily reminder in your calendar to input one thing you've learned about your niche or a new trend in the market? There's a nice productivity browser extension called Momentum that I use to do just that.
To help you retain all this great info, talk to your prospects about what you're learning. This will not only help you build professional rapport, but you're also more likely to remember a piece of information if you tell it to someone.
2. Read (or listen to!) the right books
Any successful business-person knows how important it is to consistently challenge themselves and train their mind. Dedicate an hour or so each day to reading books or listening to podcasts on entrepreneurship, communication, business, or self-development.
Everything you learn in these books will be directly applicable to your job, and if you don't enjoy reading – listen to the audio versions instead.
If you can take one thing from each book you read or listen to and actually make a point of putting it into practice at work, you'll instantly start seeing results and feel the progress you're making.
3. Attend recruitment events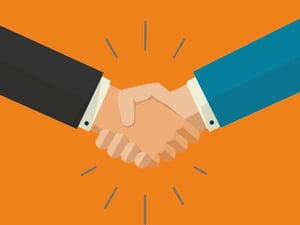 Your boss might be debating whether recruitment events are worth a day out the office, but it's up to you to ensure you get the best return on them. Look at the bigger picture and select the right events that you know will actually benefit you.
Conferences and networking events are packed full of industry leaders who have the most up-to-date information in your market that you probably won't find online.
And again, if you go to an event and take away just one golden nugget of information that will help you innovate how you do your job every day, your time out of the office was probably worth it.
4. Learn from top performers in your field
It's always in your interest to be open to learning from other recruiters – whether this means asking for a recruitment mentor or simply keeping a close eye on how a top recruiter or recruitment influencer you respect behaves online.
Never close your mind by thinking you've already cracked it, there's always a better way you could be doing things. Recruitment can sometimes be driven by ego but you can trust me when I say that the best recruiters are always are learning – even if they don't show it.
So keep an eye out for suitable mentors, try to learn a little from each of them and soon enough, you'll be someone else's mentor!
5. Do something to grow your network every day
Social selling is a huge part of recruitment and building your personal brand is one of the most important aspects of self-development that you can practice at the moment.
When it comes to developing your personal brand, don't just copy what others are doing: Try to show your own personality in your social content. That way, you'll build a unique online persona that people will remember.
If you're creative with your content and always strive to do something different, you'll learn what works in your market with your personal brand, and in time you'll become a social selling guru that everyone is following.
If you want more tips to make you a better recruiter, download our eBook on the best productivity hacks for recruiters below:
Alan McFadden
Alan is the Associate Director of Growth at Firefish. An agency recruiter in a former life, he loves helping recruiters find ways to recruit smarter.
Subscribe to our blog and receive top content to help you reach, engage and recruit more effectively!