LinkedIn is the biggest professional social platform in the world, so getting your jobs on there is must. But because a lot of LinkedIn is now 'pay to play', it isn't always cheap. In fact, when you post a job on LinkedIn, you'll be charged every time a candidate clicks on the advert - even if they don't apply to it!
But don't worry, the pricey option isn't the only option. Here's how to advertise your jobs on LinkedIn for free and get more eyes on your ads than ever before.
Post on your company LinkedIn page
Who will see these posts? Anyone who's liked your company page or is connected to someone who comments on the post.
When should I post? Every time you have a new vacancy.
Your company LinkedIn page is the perfect place to post jobs, as everyone following your page is already interested in your brand.
Write a short status update about the opportunity and include a link to the job page on your website so you direct potential candidates straight to you.
For an extra boost, try using hashtags (like '#accountacyjobs', for example) or encourage users to tag or share the post with people they think will be interested in the role.
However, do keep in mind that your LinkedIn page isn't a job board. You should be posting a variety of content on your page to keep your followers engaged with your brand – if you spam up feeds with a constant stream of jobs, you'll get a load of unfollows.
Post on your personal LinkedIn profile
Who will see these posts? Anyone who's connected with you on LinkedIn or is connected to someone who comments on the post.
When should I post? Every time you have a new vacancy.
When you're posting a job on your personal profile, pasting the job link into a post (like the example above) isn't the best tactic - because your personal profile should be just that, personal.
Instead, create short, snappy and informal posts (this is still a social media platform, remember!) without linking to the job advert in the body of the post, like this: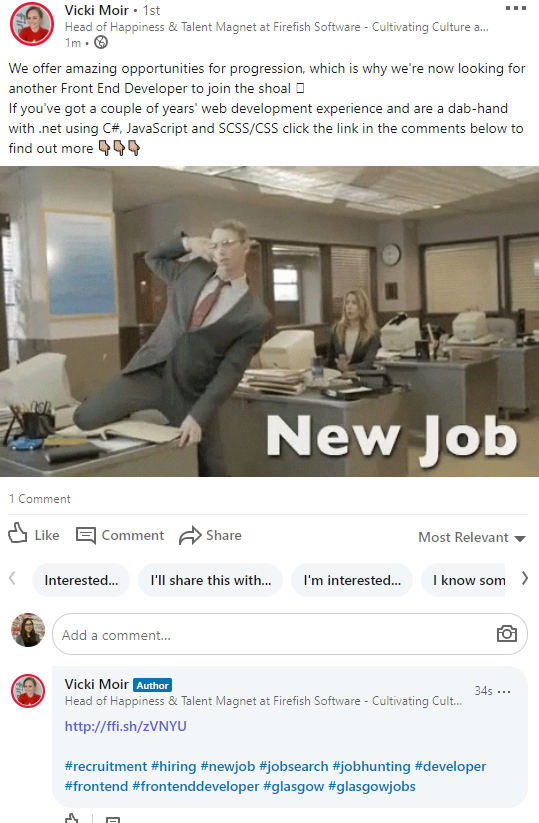 When you post link-free job ad like this, you actually get more eyes on it. This is because LinkedIn penalises content that directs users to other websites (as this takes traffic away from LinkedIn), so your link-free ads will appear further up your networks' news feeds and get you more views.
To direct candidates to apply, post the link to the job advert on your website in the comments (LinkedIn won't penalise you for this) or encourage candidates to reach out to you directly .
For extra impact, use images, emojis or even a GIF (the example above uses a GIF - click here to see it in action) to grab your followers' attentions, appear more personal and ultimately make you and your jobs ads more memorable.
Let LinkedIn do it for you
Who will see these posts? Candidates searching LinkedIn for job vacancies in your niche or signed up to alerts for relevant positions.
When should I post? You don't need to!
LinkedIn claims you can't post jobs for free on the platform, but this is not true. In fact, LinkedIn will find and post your jobs for you – for free!
It's a fairly recent development, but LinkedIn have started scraping websites for job opportunities and republishing them on the platform. And when you think about it, it kind of makes sense if you want to be the go-to jobs platform online.
There's no official info online about where LinkedIn scrapes job ads from, but as most of these LinkedIn ads link back to company websites or job boards, we can confirm it's using multiple sources to do this.
Any scraped jobs will show up in the results page of relevant LinkedIn job searches, like below: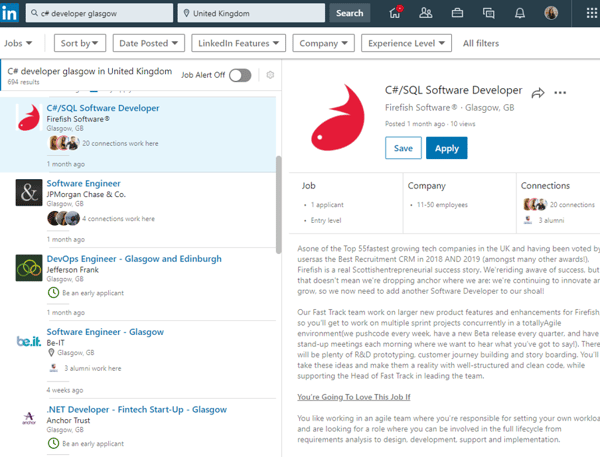 Unsurprisingly, LinkedIn will still prioritise paid adverts, pushing them to the top of the search results. However, this will only involve a select few adverts, so there's still plenty of space for your jobs to rank near the top of these results.
LinkedIn also posts these ads in the 'jobs' section of your company's LinkedIn profile, so any candidates looking at your page can view all the current vacancies you have at one time.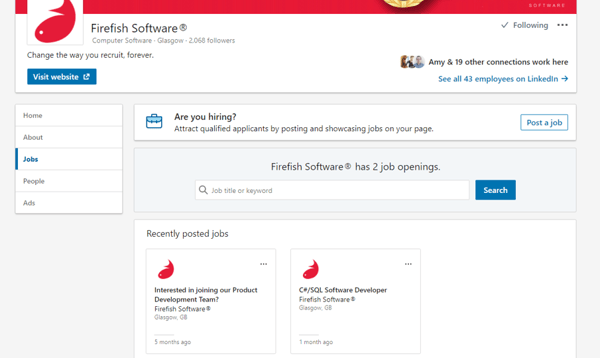 When a candidate clicks 'apply' on one of these adverts, LinkedIn directs the user back to the original website source (for example, a job board or company website). This is the key difference between these free, scraped LinkedIn ads and paid ones: If you spend the cash, candidates can apply directly on LinkedIn; if your jobs are posted free, this involves an extra step in the journey for the candidate (which could reduce candidate conversions).
Another small downside to this feature is that it may take some time for LinkedIn to scrape and publish your jobs, meaning it's not very effective for quick-fill roles.
Post videos that promote your jobs
Who will see these posts? Anyone who's connected with you on LinkedIn or is connected to someone who comments on the post.
When should I post? When you have a particularly tricky role to fill.
There's no denying that LinkedIn loves video. Research has shown that video is also one of the most effective tools for candidate engagement (some agencies have even reported 800% more engagement with job ads that have video embedded!), so it's a no-brainer to use this medium to advertise your jobs on LinkedIn.
An effective LinkedIn video should be short (under 90 seconds) and look professional (you can read more LinkedIn video do's and don'ts here). If you're worried about not having the budget to produce a high-quality video, don't worry. You can shoot, edit and share an awesome LinkedIn video to accompany your job ads entirely on an iPhone using these tips.
To ensure you achieve maximum visibility on your video, post natively so candidates can watch it directly on the platform. Again, this is the kind of content that LinkedIn loves so it will reward you for keeping people on the platform instead of directing them to YouTube or another video platform.
Encourage candidates to reach out to you on LinkedIn for more info or include a link to the job ad on your website in the comments so candidates know how to apply to your fantastic opportunity.
For more information on using video for recruitment, check out this eBook or watch our LinkedIn video for recruiters Crowdcast.
Get your candidates to share the job
Who will see these posts? Everyone in their network.
When should I post? When you have a tough role to fill.
LinkedIn Groups may be dead, but there's still a community you can utilise to get results on LinkedIn…. your placed candidates!
Happy, successfully-placed candidates are an underutilised secret weapon on LinkedIn . Their network is full of people just like them, meaning it's full of candidates who could be great fits for your roles.
Simply reaching out and asking if they'll share your advert will often do the trick, but for extra incentive, you could offer a small referral reward (like a shopping voucher) for any placed candidates that come from their network.
If LinkedIn is vital to your recruitment strategy, our eBook on sourcing candidates on LinkedIn is a must-read.
Sophie Cunningham
Sophie is a Content Marketer here at Firefish! After working as a 360 Recruiter she found her perfect niche here at Firefish writing about recruitment.
Subscribe to our blog and receive top content to help you reach, engage and recruit more effectively!