As you will know, Google rolled out its mobile update on April 21st sending businesses worldwide into a panic as to how they might be affected.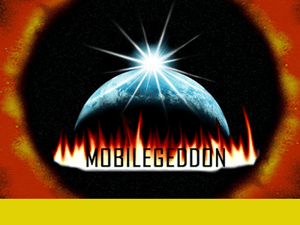 Next was one of the most well-known victims, with its organic visibility on mobile searches dropping a massive 38%! Some blogs and so-called 'experts' massively overhyped the entire thing, leaving companies concerned they would be forever banished from search engine results and that years of content would be wiped out overnight.
We wrote a blog to prepare people and simplify the process which you can find here if you still need to make those all-important changes. Importantly, if your agency continues to focus on responsive web design and quality content you won't die a horrible online death over a few algorithm tweaks. So what have we learned from #mobilegeddon?
1. Individual pages were affected more than whole sites
A number of existing 'mobile-friendly' sites were still affected by the update. This derived from businesses having landing pages which were specifically created to capitalise on a particular keyword string. Many mobile optimised sites still include links to non-optimised landing pages that have yet to be updated. When a page falls from the first page of Google results, repercussions are felt in drops in traffic and sales. Ever heard that joke, where's the best place to hide a dead body?... the second page of Google! It may only be one of your recruitment site's pages that needs fixed and properly optimised as opposed to your entire website.
2. The update wasn't rolled out instantly
Despite April 21st being widely publicised as 'the big day', it took until May 1st for Google Analysts to announce the update had been completely released. In the run up to the deadline, a lot more sites became mobile-friendly with the exact figure being 4.7% of all websites. Re-indexing of the recently updated sites took some more time so the true post mobilegeddon outcome wasn't visible until mid-May.
3. Remember, you don't need a mobile site to reach desktop users!
If you failed to have a mobile site up and running by the deadline then you can find comfort in the knowledge that at least desktop users will still find your site- you'll only be excluded from mobile search results. For companies who didn't see the value in a forced update, this will be a relief as they haven't dropped off the face of the digital earth. Some businesses rushed to develop mobile responsive sites and the tight timelines have caught them out with tech implementation not working as it should and Google struggling to index the hastily redirected pages. If you're going to do something; plan well, work to a realistic schedule and get it right first time.
4. Mobile websites aren't a flash in the pan
Given that around 35% of web traffic comes from mobile devices- companies have to realise how worthwhile investment in mobile sites can be. Gone are the days when the suggestion of investing in social media was laughed at and shot down in flames. Mobile, social… they're all crucial parts of the digital marketing landscape. A mobile site offers your business so much; real time location targeting, 24/7 global access, faster loading times and click to call. Mobile websites provide great return on investment.
5. Develop a great digital marketing strategy
Some agencies, perhaps pushed themselves to the limit and worked overtime having their IT staff or external contacts drop other projects and focus solely on mobile optimisation. Often, they were investing money they hadn't budgeted to develop dedicated mobile sites. No one likes to be caught off guard so it's best to have a solid digital marketing strategy for your recruitment agency. Keep abreast of news and developments on the digital side of things and create a sustainable budget for tasks like SEO and content creation.
6. Mobilegeddon is not the end of the world!
Despite all the scaremongering, any damage caused by #mobilegeddon is not permanent and can be reversed. The 'apocalypse' was underwhelming and didn't leave a trail of disaster and broken digital dreams as was suspected. Your recruitment site will not be blacklisted for all eternity because you couldn't accommodate mobile traffic before the end of April. Google rankings are significantly based on present content and functionality so you can get your rankings back on track by optimising your site now.
Megan McBurnie
Megan worked as a recruitment consultant, recruiting in the Office Services, General Insurance and Legal markets.
Subscribe to our blog and receive top content to help you reach, engage and recruit more effectively!