December can be a funny one for recruitment sales: How do we balance keeping our pipeline warm and fuzzy over Christmas whilst giving ourselves time to recharge after a year of hard graft?
Although most of us are already well into winding down and getting into the Christmas spirit, December can still be a stressful time as we scramble around trying to get the last of our invoices out before year end.
Here are a few dos and don'ts of recruitment sales that I try to live by over the festive period...
DO use Christmas cheer to nurture your pipeline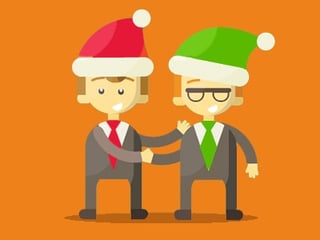 Taking the time to send out Christmas cards or personalised gifts to clients is always a nice touch. But when it comes to email, avoid getting lost in the generic 'Merry Christmas!' email trap, as these simply clog up client inboxes - you'll just end up on the naughty list!
Try to think of something festive and valuable you could offer them instead: a link to a Christmas blog with survey stats on market trends in their industry. Inject some festive cheer into your email subject line, and you could even sign it off with a nice Christmas-themed email signature.
You could also use the holidays to give your prospects some insight into your company culture, so they get a better feel for who you are as a recruitment business. This can be as simple as sharing photos of the office Christmas tree, Christmas jumper day or of the Christmas party (remember to keep it client friendly!).
DON'T assume everyone is winding down
You might already be in full Christmas mode, but presuming that your prospects are all on the same level could easily result in you missing out on opportunities. Letting your warm leads go cold just because you're assuming it's 'tools down and budget tied up until the new year' for everyone could mean losing out to competitors who stay on the ball right through the holiday season.
Remember that December means different things to different people, and for many it's just business as usual. A lot of prospects will even be gearing up for the January recruitment boom already, so with less competition this time of year, December can be a great time to get out to see new prospects.
DON'T try to force your client's hand
December can be a stressful month for a lot of people, and being pushy with busy people just because you have the time to call them three times a day won't go down well.
If your prospect doesn't have the time until the new year to confirm a job, respect that. Trying to force movement when all they need is to be kept warm until January will do much more harm than good.
DON'T invite clients to company Christmas parties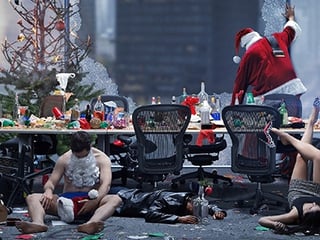 Including clients on the guest list to company Christmas parties can seem like a good idea at the time, but once the party's in full swing, you'll regret it!
For one thing, you don't want your clients to be seeing you and the rest of your team in full-on party mode, dancing on tables after a long day of office drinks. But another downside is that a party that's meant to be all about celebrating the team's hard work will be turned into a night where the focus is all on the clients, and you'll find yourself talking shop all night rather than letting your hair down for once!
And on that note…
DO make sure you take some time off
Even the top biller needs a day off to rest, reflect and recharge! Ploughing on through Christmas and new year might seem like you're giving yourself a head start for your best performance year yet. However, the reality is that the best way to start the new year is feeling refreshed and revived after some much-needed time off!
After a few days breathing space, your productivity levels are likely to shoot up and then you'll be ready to hit the ground running in the new year! Download the eBook below to get your recruitment sales strategy ball rolling so you're well prepared.
Joanne Causer
Joanne is a Senior Growth Specialist at Firefish. She loves bringing on board new recruiters who are looking to recruit smarter.
Subscribe to our blog and receive top content to help you reach, engage and recruit more effectively!