December is a weird time in recruitment. With most businesses winding down for the year, there are always fewer roles to fill. Everybody's focus switches to Christmas parties and enjoying the downtime, so it can be tempting to sit back and relax until New Year rolls in.
But the BD activities you do in December can have a huge impact on how you start the new year. Here's what to do to make sure you start January with a bang...
1. Start warming up your prospects for the new year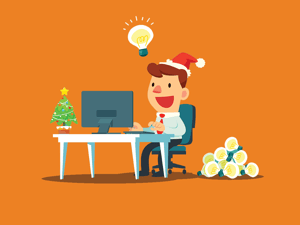 December is a really different month in recruitment so going about your BD as usual, can be counterproductive. Everybody is getting into the Christmas spirit, making it the perfect time to reach out to your clients and prospects without trying to sell to them. Instead, add some festive cheer into your messages to start warming them up for the new year.
It's worth remembering, clients and prospects get a lot of generic Christmas messages so think outside of the box and find ways to put your own stamp on anything you do send out. You could send out branded swag, or run an email campaign linking back to your light-hearted Christmas blog content – whatever it is make sure it's valuable and different.
I once ran a Christmas-themed recruitment quiz that got a great response and it secured me some clients for the following months. You could even incentivise your pipeline to play along by offering a 10% discount on January fees for the winner.
2. Share an end of year roundup
This year, the job market went from candidate-rich to a candidate-short short in a few short months - it's fair to say it's been another rollercoaster for recruitment! All of this year's challenges and achievements were tracked as data in your CRM – consider this your golden ticket for attracting leads for the new year.
The data in your CRM can provide valuable intel that your clients and prospects don't have direct access to. Pull together an end of year round-up that tells your clients a data story of how the recruitment industry fared in 2021 as well as the milestones you reached. Sharing something of high value like this will position you as a credible source of information and remind prospects you're a pro at what you do. Do this, and you'll be the first person they think of when looking to hire in hire in 2022.
3. Book meetings for January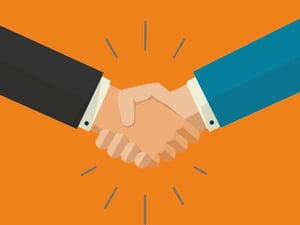 Getting clients to agree to meetings in December is really tough work. You're more likely to hear "we aren't looking to hire until the new year. We'll be in touch after Christmas" than get a good response. Instead of wasting time trying to book meetings for December, focus your efforts on securing meetings for January. That way you'll come back to your desk with a calendar full of promising sales meetings in 2022.
Avoid asking open-ended questions like "when are you free?" instead, be specific and ask "can you make Monday 10th January at 11am or Tuesday 11th January at 2pm?". It's a great psychological trick that makes prospects more likely you say yes. If you still get a response right away, follow up with a diary invite to give them an extra nudge.
4. Use the time to update your BD strategy
When was the last time you assessed whether your BD practices are still working? Are your BD emails getting good returns? Do your warm calls get you results? Is there any new technology that could really help you up your game? These are all questions we rarely get time to ask ourselves but market conditions are prone to change. If you want to keep upping your billings next year take time to update any outdated recruitment sales tactics in December.
If you've read this blog before, you'll also know we're big advocates of recruiters taking time out for self-development too – it's the key to becoming a better recruiter! Maximize on the quieter weeks and focus on doing some self-development and upping your BD strategy. The goal is to eliminate any inefficient tactics and bad habits you've been holding onto this year. That way you'll come back stronger in the new year and get off to a flying start.
Bonus: Catch your clients' urgent fill roles
When I worked in recruitment, I kept up my BD well into late-December, and it helped me secure some of my clients' last-minute urgent fill roles making it one of my strongest months that year. It just goes to show, that no matter how the market is looking or what time of year it is, there's no good reason to stop proactively reaching out to your clients and prospects (even if you're not trying to sell to them).
For tips on how to update your sales strategy download the eBook below.
Beth Williams
Awesome Aussie Beth is an experienced recruiter and Growth Executive here at Firefish. She has a huge love of the industry and a real passion for helping recruiters to change the way they recruit.
Subscribe to our blog and receive top content to help you reach, engage and recruit more effectively!