With 1.5 billion active users globally, WhatsApp is the most-used messenger app in the world right now. But whilst most of us use WhatsApp every day in our social lives, how many of us are using it for recruitment?
As an industry, we're all trying to adapt to recruiting and onboarding remotely, and WhatsApp has the potential to play an important role in this.
There are also some lesser-known WhatsApp features that are perfectly primed to make our jobs easier, so it's worth getting to know what they are too.
Here are a few WhatsApp features that will improve your remote recruitment process.
The WhatsApp Business app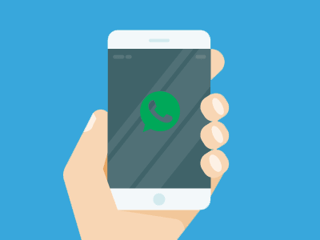 WhatsApp Business is a free app that's similar to your Facebook for Business page (unsurprisingly, since Facebook owns WhatsApp too).
In the same way that candidates are able to get in touch with brands directly on Facebook chat via a company Facebook page, the WhatsApp Business app allows any candidate with a smartphone to reach out to recruitment agencies and brands over WhatsApp Messenger.

WhatsApp is a platform that our candidates are already really comfortable using, and research has shown that candidates almost always prefer to message a business rather than pick up the phone. Therefore, it's a good idea to make it easy for candidates to reach out over WhatsApp if they choose to do so.

Since the initial launch of the app, WhatsApp have released some additional features that are useful for recruitment teams. For example, it now has a common question quick-reply function and the ability to group different contact lists together and label them – read more about this here.
'Send WhatsApp message' CTA button on Facebook
If you're paying to boost a post about a role (and remember the added bonus of boosting job ads on Facebook is that it will reach candidates outside of your engaged community as well as within it), Facebook now gives you the option to include a 'send WhatsApp message' CTA button to the foot of your post.
To do this, you need to be an admin for the Facebook page that you're boosting the job ad from. You'll also need to have your WhatsApp Business account set up and have your Facebook page and WhatsApp Business account aligned with each other.
The next time you go to boost your post, select 'Send WhatsApp Message' from the available button options so candidates can enquire about the role with just the click of a button.
Broadcast lists for bulk messaging
Did you know you can now bulk message candidates via WhatsApp without using groups?
Using WhatsApp groups to keep in touch with candidates is quite impersonal, and it throws up all kinds of GDPR issues too. So it's great that WhatsApp have now created a feature within messaging that allows you to create lists that you can broadcast messages out to all in one go whilst making it look like you're sending out individual messages to each person.
This is a great way to keep candidates engaged without spending too much time crafting regular individual messages. You can have up to 256 contacts in any one list, so you could build candidates lists like mini talent pools (based on industry and skillset, for example) and reach out to them with minimal effort.
There's no limit to how many messages you can broadcast out to your lists, but there is one complication with this feature: Candidates will only receive your broadcasted message if your number is saved on their phone (this is to protect users from spammers). Therefore, you might want to start asking candidates to save your phone number as part of the registration process moving forward.
Video calling/ recorded video introductions
WhatsApp video calling has risen in popularity recently for obvious reasons: it's more personal than a regular phone call, but easier to facilitate (particularly during a global lockdown!) and less time-consuming than a face-to-face meeting.

But another great feature about WhatsApp video is that you can record video messages and easily send them – all within the one app. This is particularly useful when looking to make your shortlists stand out when recruiting remotely. Go that extra mile for your clients by supplementing each CV you send them with a short two-minute video of each candidate introducing themselves to the camera. You'd be surprised how effective this can be!
Specialised WhatsApp group communities
If you're a WhatsApp user, you'll likely be using the Groups function for organising group holidays or sending passive aggressive messages to people you live with. In other words, you're only using it to keep in touch with people you already know.
However, there's a whole other side to WhatsApp groups that most of us know nothing about: it's also used publicly by communities within very specific niches (mostly techy) to keep in touch with likeminded people. So as you can guess, public WhatsApp groups have the potential to be a gold mine for specialist recruiters!
There are a vast number of public specialised WhatsApp groups for people with special interests to hang out in – and to join in, all you need is a chat.whatsapp link. You can either be sent the link by an existing member of the group, or you can even search for them on google. Try something along the lines of 'WhatsApp group for C# programming' or whichever industry you're interested in recruiting for, and see what comes up.
Open WhatsApp communities like this are massive in Asia at the moment, but gaining traction in the UK within smaller, tech-savvy communities. These groups should simply be used by recruiters as a fly-on-the-wall opportunity to gain some invaluable insights about the current market in your specialist area of recruitment. Go in with the hard sell as soon as you gain entry and you'll be booted out and blocked from the group sharpish!
So whilst it's true that WhatsApp has been a bit of a slow burner for the recruitment industry, it seems we've reached a turning point with these great new features. Now that the new Whatsapp Business app has officially launched, recruitment agencies across the sector will be jumping on the band wagon – so get your WhatsApp recruitment strategy in place to ensure you're ahead of the game.
Like WhatsApp, Facebook is a platform we use socially all the time, but we don't always take advantage of it as a recruitment tool. The eBook below will teach you how to set up a Facebook recruitment campaign, so you can start diversifying your strategy today.
Katie Paterson
Katie once headed up the Firefish blog and marketing team. She now works as a freelance copywriter and continues to contribute to our award-winning blog.
Subscribe to our blog and receive top content to help you reach, engage and recruit more effectively!