WhatsApp's been tipped as 'the next big thing' in recruitment for years now, but despite all the hype, it's yet to really take off within the sector. But with some great new features that are perfectly primed to make recruiters' jobs easier, it seems that WhatsApp recruitment's day has finally come!
So let's take a look at some of these new WhatsApp features that make the messenger app an ideal tool for recruiting candidates.
The WhatsApp Business app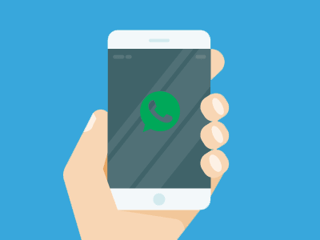 The WhatsApp Business App was officially launched just last week, so this recruitment tip is hot off the press! WhatsApp Business is a free app that's similar to your Facebook for Business page (unsurprisingly, since Facebook owns WhatsApp too!). In the same way that customers (or in our case, candidates) are able to get in touch with companies directly on Facebook chat, the WhatsApp Business app gives businesses a platform where they can quickly and easily respond queries from anyone who has a smartphone – not just Facebook users.

This is likely to integrate really well with recruitment businesses, as WhatsApp is a platform that so many candidates will already be extremely comfortable using. What's more, according to a recent study, more than half of consumers now prefer to message a business rather than pick up the phone, and this is definitely a trend we're seeing in recruitment too (we all know how tough it can be to get candidates to pick up the phone!).

It's likely that the WhatsApp Business app will become ubiquitous pretty quickly, so it's worth doing your research and downloading the app now to have a look around. Note that the app is currently only available on Android, but there are plans to roll out iOS soon.
'Send WhatsApp message' CTA button on Facebook
This new feature is so effective at pulling in new candidates that it was probably invented with recruiters in mind (…ok, probably not). Effectively, if you're paying to boost a post about a role (the added bonus of doing this being that your post will also be reaching candidates outside of your engaged community), Facebook now gives you the option to include a 'send WhatsApp message' CTA button at the foot of your post. You can then align this button with the WhatsApp number of whoever is managing that particular role, or with a general businesses WhatsApp account, meaning candidates can enquire with just the click of a button.

As this involves the absolute bare minimum effort to get in touch with a recruiter to find out more about a role, it's looking likely that we'll see this WhatsApp feature become a vital new addition to any forward-thinking businesses' online sourcing strategy.
It's worth noting that this feature is only available to those businesses willing to invest time, effort and cash into their Facebook recruitment campaigns – but we're sure you're doing that already!
Video calling/ recorded video introductions
If you're struggling to nail down a busy candidate for a one-to-one before putting them forward for an interview, a WhatsApp video call is a great alternative to put on the table. WhatsApp video calling has risen in popularity recently for obvious reasons: it's more personal than a regular phone call, but easier to facilitate and less time-consuming than meeting up with someone. And anything that saves time is in the working day is a godsend for recruiters!

But another great feature about WhatsApp video is that you can actually record video messages and send them – all within the messenger app. This could really work in your favour when looking to provide extra value when putting candidates forward for a role: Go that extra mile for clients by supplementing each CV you send them with a short two-minute video of each candidate introducing themselves to the camera. You'd be surprised how effective this can be!
Specialised WhatsApp group communities
If you're a WhatsApp user, you'll likely be using the groups function for organising group holidays or sending passive aggressive messages to people you live with. In other words, you're only using it to keep in touch with people you already know. However, there's a whole other side to WhatsApp groups that most of us know nothing about: it's also used publicly by communities within very specific niches (mostly techy) to keep in touch with likeminded people. So as you can guess, public WhatsApp groups have the potential to be a gold mine for specialist recruiters!

There are a vast number of public specialised WhatsApp groups for people with special interests to hang out in – and to join in, all you need is a chat.whatsapp link. You can either be sent the link by an existing member of the group, or you can even search for them on google. Try something along the lines of 'WhatsApp group for C# programming' or whichever industry you're interested in recruiting for, and see what comes up.

Open WhatsApp communities like this are massive in Asia at the moment, but gaining traction in the UK within smaller, tech-savvy communities. These groups should simply be used by recruiters as a fly-on-the-wall opportunity to gain some invaluable insights about the current market in your specialist area of recruitment. Go in with the hard sell as soon as you gain entry and you'll be booted out and blocked from the group sharpish!

So whilst it's true that WhatsApp has been a bit of a slow burner for the recruitment industry, it seems we've reached a turning point with these great new features. Now that the new Whatsapp Business app has officially launched, recruitment agencies across the sector will be jumping on the band wagon – so get your WhatsApp recruitment strategy in place to ensure you're ahead of the game.