From attracting new candidates to pulling in new business, a good Twitter account can be a great way to generate leads for a recruitment agency.
Working out a strategy that benefits the brand and attracts the right people is the most important part. And the best way to master Twitter as a recruitment agency is to get inspiration from those already doing it!
Here are six of our favourite recruitment brands on Twitter…
1. Calco Services
Twitter handle: @CalcoServices
Calco is a specialist, UK-based recruitment agency focusing on the construction, property and engineering sectors.
Best thing about Calco's Twitter:
Calco are passionate about their specialisms – making them a must-follow for anyone working in their sectors. From retweeting new and exciting architecture to sharing industry news in support of their followers, they clearly love what they do.
They're really active on twitter and regularly tweet, so the content they share is always fresh (which is always key to a good Twitter account!). This proactive approach has helped them build genuine rapport with both their clients and candidates – which is quite rare on social accounts like Twitter.
2. Radical Recruit
Twitter handle: @recruit_radical
Radical Recruit is a not-for-profit and community owned recruitment consultancy that specialises in finding 'hidden' talent from marginalised groups that employers often overlook.
The best thing about Radical's Twitter:
We love radical recruit! It is very rare that you find recruitment agency with a cause and this is what Radical is all about.
If you're sick of the self-promotional content a lot of companies post on Twitter, you'll love Radical as much as we do. Their Twitter is guaranteed to inspire you as they share stories of the candidates who they've helped pull out of difficult circumstances and secure employment.
It's uplifting to see a brand so thoroughly dedicated to finding their candidates work, no matter what the circumstances – Radical is the true embodiment of ethical recruitment.
3. iMultiply Resourcing
Twitter handle: @iMultiplyTweet
iMultiply are a finance and accountancy recruitment agency that doesn't just target itself on sales, but client and candidate satisfaction too!
The best thing about iMultiply's Twitter:
iMultiply manage to find the balance between tweeting a good variety of content and job opportunities.
Twitter is all about getting discussions going, and they make a point of starting threads on subjects like work mobility and diversity in the workplace to encourage conversation and avoid the recruitment agency cliché of turning Twitter into a glorified job board.
Their commitment to their industry and candidates is clear to see in their feed: sharing information on how self-employed workers can apply for government support alongside thought-provoking industry insights into the future of finance employers.
4. HRC Recruitment
Twitter handle: @hrc_recruitment
Based in Scotland, HRC Recruitment is the multi-sector consultancy that keeps it's finger on the pulse of the recruitment market.
The best thing about HRC's Twitter:
The moment you click onto HRC's Twitter feed, you'll notice they're a brand that really knows the market. From sharing their own blog content (that's always relevant to the moment) to retweeting the latest happenings in the recruitment industry – HRC are experts, and they know how to show it on Twitter.
Their Twitter isn't all fact-focused though. You get a real insight into what life is like working at HRC as they're always tweeting about office antics (at least they did before Covid-19 put everyone in lockdown), making their brand feel authentic and personal.
5. Anthony McCormack of MacstaffUK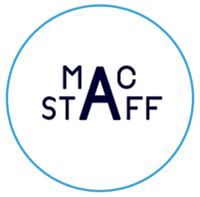 Twitter handle: @Macstaffuk
Anthony McCormack is the founder of Macstaff – a UK-based recruitment agency specialising in construction, property, engineering and manufacturing. This is the only personal Twitter account we've listed because Anthony's personal Twitter account is the Macstaff company account.
The best thing about Macstaff's Twitter:
We love Anthony - he's not only been a long-time friend of the Fish, but he's a great example of how to run a stand-out agency brand Twitter.
Anthony's personal approach to his company brand is incredibly engaging on Twitter. Whether he's tweeting about the latest book that's inspired him or his own personal goals, he's always able to relate it back to his goals as a recruiter and his genuine enthusiasm for his work always shines through.
His knowledge and passion for his industry (and recruitment in general) are enough to convince any client or candidate that Macstaff are a recruitment supplier they should be working with.
6. Adria Solutions LTD
Twitter handle: @adriasolutions
Family-run business, Adria solutions are a marketing, digital and IT recruitment agency that caters to a diverse range of clients UK-wide. They're dedicated to bringing a personal touch to recruitment and using technology to streamline their processes.
The best thing about Ardia's Twitter:
Adria solutions bring the best of both worlds to their twitter page: sharing industry insights alongside humorous, light-hearted posts.
We love their hilarious gifs that you're guaranteed to relate to – it's definitely the type of content we need right now!
It's great to see an agency brand take themselves a little less seriously by using Gifs and Memes is a to catch the attention of their digital-focused target market.
If you want to boost your recruitment brand on Twitter, download the eBook below to learn how to stand out on the platform!
Amy McLaughlin
As Senior Digital Marketer at Firefish, Amy keeps our Firefish customers up to date with the latest news from the Aquarium.
Subscribe to our blog and receive top content to help you reach, engage and recruit more effectively!