The best hires come out of great recruitment briefs, and the best briefs are a result of recruiters asking their clients all the right questions. So, if you only ask the same basic questions time and again, you'll always get the same (or worse) results. Ask these well-considered, loaded questions during briefing stage, and you'll set yourself up nicely for a winner!
Here are 5 great deal-breaking questions we often forget to ask that could easily seal the deal, and even land you retained business with your client.
1. 'Why has this position come about in the first place?'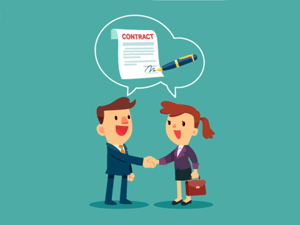 Has this opportunity come up due to company growth? Is it a back fill due to an internal promotion or a team member moving to a new company? Or, is it that the client has tried to make the hire themselves but struggled, which is why they're turning to you?
It's crucial you get a solid idea of the real pains and aims of the posting by asking this simple question before you ask anything else. Understanding if/why the role has failed in the past will help you tailor your search to reduce the chances of this happening again.
2. 'How do you see this new hire impacting business?'
It's not just about what the candidate will do in their role, but about the rippling effect they'll have on the rest of the business.
Asking this important question during the briefing stage demonstrates you care about the wider goals of the client and company, and aren't just looking to tick boxes and push your candidate through the door.
The answer to this question will also give you a clear picture of who your client is (and isn't!) looking for, and indicate just how important this hire is to the business more broadly. And the best part is, if you're able to gather that your candidate will be making a significant impact on business, why not take the plunge and ask for a retainer?
3.'Can you take me through an average day in this role?'
Asking the client to give you some basic information regarding daily tasks of the role can often reveal things that aren't mentioned in the brief.
It also gives you an opportunity to demonstrate how well you know your niche: For example, you could highlight any tasks you know aren't typically handled by the kind of candidate the client has briefed you for, or you could put additional responsibilities on the table that the client may not have even considered yet.
If your client is describing a very niche role - or has perhaps conflated two roles into one (meaning you know it's going to be hard to fill as you're essentially on the hunt for a purple squirrel) - you could, again, push for retained business. If this is going to be a very specific search that will take up a lot of your time, this is the opportunity to push for some commitment on the client's side.
It's also worth mentioning that this question gives you more power to sell the job to a candidate, as it offers them a good visualisation of what their new job would actually look like in practice.
4. 'What are the main things that would make you reject a candidate for this position?'
You might think this sounds like a really negative question to put to your client at this initial stage, but the reality is, this question saves everyone time, ensures you're all on the same page and encourages the client to think differently about the person they want to hire.
Find out if they've already rejected any candidates for the position and for what reason(s). Establishing what they aren't looking for in a new hire can offer just as great an insight for you as what they are looking for in a candidate.
If you're able to identify what a nightmare candidate looks like to your client nice and early, you can qualify out those who you know the client won't be interested in speaking with and only put forward the real gold-dust candidates.
5. 'Fast forward 3 months: What would you like to see in this new hire?'
What objectives would signify to the client that the person you've hired is performing well, adding value and would pass their probationary period? This question is gold for a few reasons:
It demonstrates to the client that your interest goes beyond getting a candidate through the door on start date so you can get your fee
It has the potential to create a further opportunity for more business if the client mentions anything about growing a division or moving up the ranks quickly
It gives you some additional information to take to your candidates to give them a view of what would be expected and what can be achieved with hard work in this time frame
It creates a great stepping stone opportunity for you to pitch for an assured delivery package as part of a retained contract (to learn more about what this would involve, read this eBook). You could propose that you'll only receive your final payment if and when the candidate has passed their three-month probation period. Who can say no to that!
Download the eBook below to start building a pitch based on what you can offer your client over your competitors and begin pulling in more retained business as a result.