If you've read any of my blogs before, you'll know I like to talk a lot about how the recruitment industry is changing and what we should be doing to stay competitive.
But it's getting to a stage where so much is changing in our industry that it's not about changing your processes to get ahead of the game anymore – it's a matter of do or die!
Here are a few things I still see recruiters doing (or not doing) every day that we really need to change if we want to keep recruiting in 2022 and beyond.
1. Not using video (enough)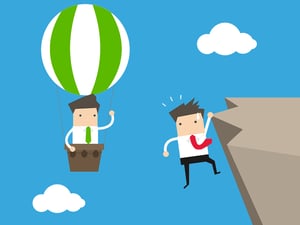 Video isn't just for interviewing candidates who can't be there in person - it should be a crucial part of all your recruitment activities across the board.
Studies have shown that you can increase your read-to-reply rates on email and LinkedIn by 25% if you embed a personalised video and agencies have reported a massive 800% increase in job ad engagement on those ads that include video.
These stats don't surprise me in the slightest. I myself struggle to engage with wordy emails, but if you put the point across to me on video, it's likely I'll respond straight away.
So use video in any sort of first-touch messaging (including InMails and business development emails) and make sure you use LinkedIn videos (posted natively) to build a memorable personal brand.
2. Relying heavily on job boards
The majority of recruiters still turn to job boards every time they get a job on. So why are we surprised when our candidates don't show up for interview, change their mind at the last minute or get tempted away by another role just before start day?
It's no secret that job boards have become an over-crowded feeding ground for recruiters and it's a constant rat race to place candidates. You've also probably noticed that job ad costs are going up whilst the quality of candidates they send us is going down - and this is because candidates don't rely on job boards the way you do!
Here's how candidates are really looking for jobs these days and what you need to do to keep up.
To stay competitive in 2022 and beyond, you'll need to stop running to job boards every time you have a new job on and start thinking more creatively about where to best spend your time when recruiting.
3. Using your CRM just for recording admin
Businesses continue to waste thousands of pounds every year on recruitment software that's totally underutilised by recruitment teams because they use it simply for recording their admin tasks to keep managers happy, instead of what it's actually designed for!
As we're always working at pace to fill roles, often we forget to think about the long-haul. However, the real futureproof recruiters amongst us think about the big picture just as much as the quick wins. We gather vital information every time we speak to candidates and use our CRMs as a knowledge bank to collect data that will help us place candidates later down the line too.
Knowledge is power, so start asking the right questions now so you can begin building talent pools that you can turn to again and again later down the line when the rights roles come up.
4. Not thinking like a marketer
To be a great recruiter, you need to be a brilliant marketer too. We've been saying this for years, but in 2022, you simply can't afford to ignore this advice anymore.
A lot of recruiters still think marketing consists of posting a job on LinkedIn or sending a spec email out about some candidates you're representing. But really, it's about marketing yourself as an expert to help you stand out from the hundreds of other recruiters all gunning for attention from the same people every day.
To have any impact in your market nowadays, you need a really strong personal brand to cut through the noise and get noticed as a recruiter worth knowing. So start thinking outside the box and bring genuine value to candidates and clients so that by the time you get to speak to them, they view you as an industry expert.
If you're revamping your strategy for 2022, the eBook below will give you some tips on small behavioural changes you can make that will allow you to get more done with less hard graft!
Alan McFadden
Alan is the Associate Director of Growth at Firefish. An agency recruiter in a former life, he loves helping recruiters find ways to recruit smarter.
Subscribe to our blog and receive top content to help you reach, engage and recruit more effectively!