There are around 40,000 recruitment agencies and 2.6 million limited businesses currently registered in the UK. This works out at just 67 potential clients for each recruitment agency to be working with! So how do you make sure your client list is jam-packed full of 'winners' who are likely to convert to cash on the board?
In my early days as a recruiter, I used to study the top billers at the agency where I worked to see what I could learn about how to pull in new business and generate more jobs to work on.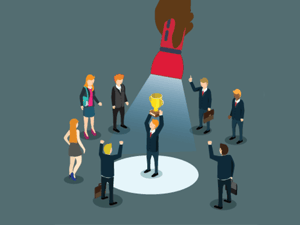 It quickly became clear where I'd been going wrong: I'd been taking a mathematical approach of calling every company that got on my radar and leaving no stone unturned, but this was not how the top billers were approaching things.
What I began to notice was that the real smart recruiters chased the money – and so my whole approach to building my recruitment desk changed overnight.
Here's my three pointers on how to ensure you have a high-converting pipeline full of companies that are going to bring you positive results.
1. Develop a good nose for cash
Companies that have cash in the bank are the ones that will be able to grow their teams, so it's a no-brainer that these should be your first port of call.
Seek out the companies that have just experienced an injection of cash (so through some sort of grant or investment), have a clear, strong cash balance or even just demonstrable positive organic growth.
Back when I started making this my go-to method, I used to have to do a lot of hard graft looking for sources to manually build out my research list, but luckily (for you!) the technology has now caught up with us. Nowadays, there are online tools like Duedil or Company Check that make the process a whole lot easier and less time consuming by automatically generating reports on your behalf.
I would recommend you save any of your top prospects into lists so that you'll be automatically alerted of any activity on these companies. This means that if a company's annual results are in, they receive an investment of cash, or it's experiencing a change of ownership, you'll get an instant email notification to tell you so.
This is a fantastic way to set yourself up for productive, strategic conversations with prospects about how they're looking to achieve their next phase of growth based on the real-time knowledge you've been gathering on the business.
2. Scour the awards lists
When I say scour through awards lists, I'm not just meaning the local 'jobs done well awards' - what I mean is to take a good look at the type of awards in your sector that highlight the companies that are growing.
For example, in the technology sector you have Fast Track Tech Track 100, Deloitte's Fast 50 and the Northern Tech Awards.
Each of these lists can work as an excellent source of companies that are already doing well, who will be focused on growing and will therefore be in need of talent acquisition assistance. In other words, a tech recruiter's goldmine!
3. Use your candidate network
Your candidate network is always going to be your top source for staying in the know of what's happening in your sector and why.
Candidates are your active resource of timely industry news, so make sure you surrounded yourself with the movers and shakers within your niche. To do this, you need to work out the right circles to play in, the right people to look after and who to always make time for so you can build a solid network based on mutual trust.
Building a trusted network takes time, but if you do it well, it will definitely give you that edge you need to stand out.
Using these three basic priorities, I was able to build a company prospect list that helped me prioritise the companies I spent time and hard work chasing down. This meant that the hours I spent doing business development where always well spent, focusing on the companies that were more likely to have a desire to grow and therefore actually want to speak to me.
And one year after I started to approach things in this way, I became the company's top biller! Success doesn't happen over night, but working smarter certainly brings it along a lot quicker.
And then all you have to do is convince these businesses that you're the agency that can guarantee delivery! Download the eBook below to find out how it's done.
Source for stats in intro: Recruitment International
Wendy McDougall
Wendy McDougall is Chief Fish of Firefish Software. In her spare time, you'll find her playing squash or feeding her inner geek with the latest technology!
Subscribe to our blog and receive top content to help you reach, engage and recruit more effectively!