Blue Monday may be pitched as the most depressing day of the calendar year, but for recruiters, it's the best day of the year to pull in new candidates and get the new year off to a great start.
Here's our two cents on how you can turn Blue Monday into a positive and use it as an opportunity to fill up your recruitment pipeline for the weeks and months ahead.
5 reasons to love Blue Monday
1. It's a great time to crack your yearly strategy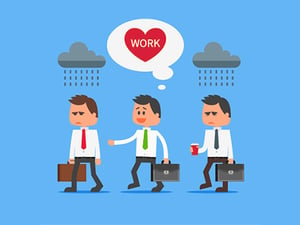 Blue Monday falls late in the month, so by this time you'll already be 2 weeks into your first month. At this point, you'll have a clear idea of how you're fairing with your current recruitment strategy so far, but most importantly, you'll still be in great position to turn things around and make changes if you're not yet getting the results you want.
Remember that January and February are the most important months in a recruiter's calendar, so you need to be taking full advantage of this time if you want to get your year off to a good start.
2. Candidates might actually pick up the phone
Getting candidates to take your calls is one of the biggest challenges for recruiters in today's candidate-driven phone-phobic market. But if candidates are feeling the Blue Mondays, this could be the day they finally pick up!
You want to make sure candidates hear from you first but make sure you take the time to build a clear and solid picture of what a new job looks like before you pick up the phone to call them. Don't miss out on a great opportunity because you're rushed and unprepared to have a productive conversation as candidates will remember who's worth picking the phone up to again.
3. It's the one day of the year that people come looking for you
You spend all the rest of the year chasing people down and trying to get them to talk to you across various channels, but today the masses will be coming to you!
Blue Monday should be the day that you have the kinds of conversations that will fill up your pipeline and keep you ticking over for months to come – be it with candidates, existing client or prospective new ones.
With a candidate-led market to tackle with, it's important to take advantage of Blue Monday as a situation where candidates are collectively and actively looking for new opportunities rather than you hunting them down. Remember that great candidates also pull in new roles, so pick the strongest candidates in the market and work your magic. Identify the serious job seekers from the time wasters and put your efforts into the winners!
4. Your email opens and engagement will be sky high
If you were to set up an email campaign to run on Blue Monday, you can pretty much guarantee you'll get your highest open rates to date (unless you count previous Blue Mondays, that is).
Blue Monday is the perfect opportunity to experiment with lots of new tactics to pull in more candidates – here are some suggestions from us to get the ball rolling.
The recruitment market is driven by good marketing and Blue Monday should be a time to shout from the roof tops about the great jobs you have on and how good you and your agency are. Think about it from a job seeker's point of view – if you're having a really bad day (which, according to the Blue Monday formula, you probably will be on this day!) and an email pops into your inbox talking about exciting new opportunities in pastures new that are directly relevant to your industry, you're likely to open it and click through to see what's on the table. So make sure your recruitment email campaigns deliver!
5. Traffic to your website and job ads will hit the roof
In the past UK job boards reported as much as a 35% increase in applications on Blue Monday. So it's clear that this is an ideal opportunity to really wow candidates with your ads – candidates are looking, so give them something exciting to look at!
As always, it's not just about throwing your ads out there and hoping candidates will come. It's about creating job adverts that cut through the noise because they're excellent and give candidates the information they need in order to really visualise themselves in a new role. We recently ran a really valuable Crowdcast with Michelle Davies on how to write job ads for the candidate-short market - you can watch the replay here.
And consider the fact that with all this potential additional traffic to your website, if a job seeker lands on your website but it looks tired and has a bad journey, they'll move on to a competitor and you'll miss out on that candidate unnecessarily.
Alan McFadden
Alan is the Associate Director of Growth at Firefish. An agency recruiter in a former life, he loves helping recruiters find ways to recruit smarter.
Subscribe to our blog and receive top content to help you reach, engage and recruit more effectively!