As recruiters, we pride ourselves in writing great job ads, but of course we don't get it right 100% of the time – and neither do employers. But to make ourselves feel better, let's take a minute to reflect on a few of the worst, most cringey and downright outrageous job ads to have hit our computer screens in 2018.
1.
The severe-lack-of-attention-to-detail job ad
If a candidate sends you a CV or covering letter with a typo or a spelling mistake in the header, this is always bad news.
But what if it's the employer demonstrating a criminal lack of attention to detail? And what if it's a massive corporate business with 12,000 employees meaning the job ad must've been signed off by multiple departments before being transferred onto a shop window?
Believe it or not, Pret a Manger really made this blunder only a few months ago…
Haha @Pret pic.twitter.com/rurVtX15eY

— Adam Howden (@A_HOWDZ) October 29, 2018
2. The stating-a-disability-as-a-skill facepalm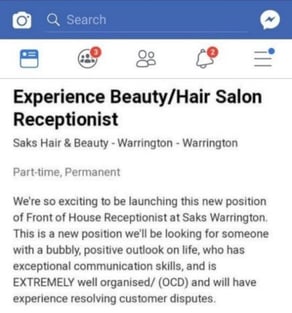 Back in August, the Metro reported that a beauty salon in Warrington was recruiting for a receptionist, but a desired 'skill' mentioned in the Facebook job ad was that all applicants should be "EXTREMELY well organised/ (OCD)".
OCD is an abbreviation of Obsessive Compulsive Disorder, which is a psychiatric condition characterised by obsessive thoughts and behaviour that can massively impact a person's day-to-day life. So, the idea of promoting it as a desired 'skill' that could help them land the job makes us want to disappear into a big hole never to return again.
3. The 4-page BBC job ad that nobody understands
Job ad jargon is always a sure-fire way to turn candidates off your job ads. But it's one thing to throw in a few hot-air terms ('synergy' and 'streamlining' seem to be favourites at the moment) and another to publish a four-page job ad that's so heavily littered with jargon that even those already working in the field don't know what it's talking about. In fact, nobody really knows if they work in the same field because they can't make heads or tails of it!

The job ad in question was an opportunity to become the BBC's new 'Head of Change' (whatever that means) for a salary of £78,000 per year. The successful candidate would apparently "influence the success of the Terms and Conditions programme with far-reaching impacts" and function as a role model for "good practice change management competences and behaviours". Your guess is as good as ours!
4.
The 'Entry level' job that asks for 7+ years' experience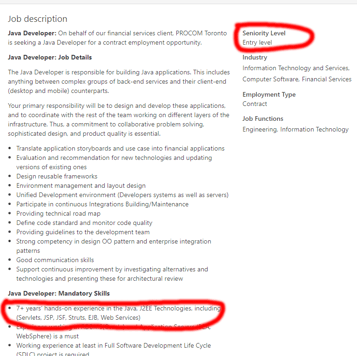 One of the biggest challenges recruiters face when putting out job ads is ensuring all the right details are included in order to pull in the right candidates. And the key to doing this successfully as a recruiter is in knowing your niche inside out (and maybe a bit of paying attention to what your posting too!).
Back in March, Recruitment Grapevine reported on one job ad that appeared on LinkedIn which demonstrated just how important it is to really understand your niche – particularly if you're recruiting for technical roles.
A company called PROCOM in Toronto had posted a job ad looking for a Java Developer but claimed they were looking for an 'entry level' Developer with '7+ years hands-on experience'. Good luck recruiting for that!
5. The page 3 job ad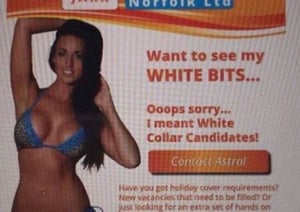 Diversity and inclusive recruitment has been a real hot topic for the industry in 2018, which makes it all the more shocking that job ad gaffes like the one to the right still happen in this day and age!
Astral Norfolk, a recruitment industry specialising in construction, sent out a 'job ad' to their entire client database that looked more suitable for page three of a tabloid than a professional website. The ad featured a sun-tanned glamour model dressed in nothing but a bikini along with the tagline "Want to see my white bits? Oops sorry… I meant White Collar Candidates!".
As predicted, it caused quite a stir amongst their clients and the recruitment community, but probably didn't get them the kind of attention they were hoping for!
6. The should've-gone-to-a-recruiter job ad
We all know recruitment can be a thankless job, so let's finish with an example that gives us all a pat on the back. Occasionally, a job ad will show up that gives us confirmation that recruiters are indispensable to the job market, and the below is definitely one of those ads!
The ad promotes an opening for an 'entry level position' with no indication of what they're actually hiring for. The 'job spec' (if you can call it that) is just a few vague descriptions of some duties some of the existing members of staff do, and it seems the most important 'skill' of all is to have the same sense of humour and taste in US comedies. Should've gone to a recruiter!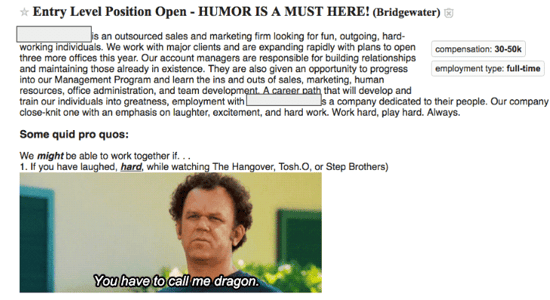 Make sure none of your job ads make it onto the worst jobs of 2019 list by downloading our job ad template toolk below...