A few studies have emerged recently that debunk a lot of what we know as good practice when creating job ads for candidates. And this is because as the candidate market grows increasingly aware and pragmatic, what they're looking for in job ads is changing - and our strategy needs to evolve to address this.
Let's take a look at some of the ways our job ads need to change in order to keep with the times and continue attracting the best talent on the market.
Company culture needs less space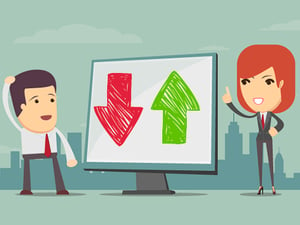 For years, we've been considering it good practice to include a section in our job ads that focusses on selling a company's culture, values and mission to candidates. But whilst candidates do want to know about a potential new employer's culture, an interesting new study has shown that these sections have the lowest engagement in job ads and candidates simply skip over them.
This is likely to be because nowadays we're creating job ads for candidates who are already excellent researchers – they prefer to do their own digging by checking out a company's social media channels and website rather than relying on what is essentially a sales pitch to make up their mind about whether they'd like to work for them or not.
What you need to do to keep up:
Don't focus too heavily on promoting your (or your client's) culture, values and mission at this stage – job ads aren't the place for this. The important thing is to make sure you have a solid strategy for communicating culture across the company website and social media channels so this information is readily available when candidates go looking for it. Stick to the important details within the job ad and provide clear link-outs to pages where the candidate can learn more about the company independently.
Candidates want straight answers
Whilst it used to be the case that we could get away with not clarifying some of the important details in a job ad in the hope that this would get more candidates on the phone for an initial chat, in a candidate-led market like we're experiencing now, this just doesn't cut it.
With the market totally oversaturated and job boards chock-a-block, candidates have so many job ads to sift through that they need concise black and white answers to qualify themselves in or out and decide whether the opportunity is worth applying for (new research suggests they'll spend just 14 seconds on a job ad before making their mind up).
If a candidate doesn't have a clear indication of job requirements and compensation, they won't give your job ad a second look – and they won't be picking up the phone to call you.
What you need to do to keep up:
Give candidates the answers they're looking for, and be sharp about it! Candidates want concise, scannable job ads - in fact, they're apparently 8.4% more likely to apply if you keep your descriptions below 300 words!
Likewise, a '£DOE' or 'competitive salary' will only result in your job ad being ignored – and not just by candidates, but by Google for Jobs too. A clear salary bracket is one of the essential details necessary for your job ads to get picked up by Google for Jobs – find out how to switch to Google for Jobs.
Similarly, including generic skill sets in your job ads when you know the requirements are actually pretty specific will only work against you in the long run. If a candidate gets in touch about a role only to find when they speak to you that they're underqualified because your job ads were misleading, this will sever any chances of you placing that candidate in the future.
Visualisation is key
For a candidate to really buy into a job ad, they need to be able to visualise themselves in the role, and for that to happen they need a job ad that speaks directly to them (if they really are the right candidate for the job!). As the recruiter creating the job ad, it's crucial you fully understand and can visualise the role yourself when writing, otherwise candidates won't either.
What you need to do to keep up:
Get to know your niche and your industry's candidates inside out so you know what they look for in a new role and keep this in mind when creating job ads for them.
For example, a java developer's day-to-day duties will be the same no matter what company they're at, so focussing on employee benefits and culture is likely to be the best way to sway them.
Compare this to how you'd want to sell a marketing executive role in a job ad, and the strategy should be quite different. Marketing roles tend to be extremely dynamic and can cover so much ground that it's crucial to include clear details of day-to-day duties so the candidate can visualise what their role would look like and what will be expected of them.
If you/your client is open to applicants of a variety of different seniority levels for the same role, the best way to approach this would be to create multiple different adverts for the same role. This ensures your job ads are always speaking directly to the different levels of candidate – in practice, the role will be completely different should they take on an entry-level candidate compared with taking on a senior candidate, and your job ads need to reflect this.
Job ad branding is a must
Until now, the recruitment industry has managed to survive despite agencies using multiple cryptic, unbranded job ads all promoting the same role in a slightly different way across job boards in attempt to keep the competition out. But nowadays, candidates are a lot more hesitant to apply for a job without knowing who the employer is first, and clearly-branded job ads receive a much higher conversion rate – here's why.
What you need to do to keep up:
If you're an agency recruiter creating job ads on behalf of your client, pitching for exclusivity on the role so that you can use the client's brand to promote the role will increase your conversions massively and ensure you're pulling in more right-fit candidates too.
To find out more about how to create a futureproof job ad strategy that ensures your jobs are getting the largest reach possible, download our Google for Jobs Playbook below.
Katie Paterson
Katie once headed up the Firefish blog and marketing team. She now works as a freelance copywriter and continues to contribute to our award-winning blog.
Subscribe to our blog and receive top content to help you reach, engage and recruit more effectively!