To help improve your practice and boost your billing, we've come up with 5 New Year's resolutions every recruiter should be making in the new year. It's time to reflect on the year just passed, and start thinking about how you plan to up your game in 2019!
So what are these New Year's resolutions every recruiter should make? Read on to find out!
"I'll start thinking more like a marketer"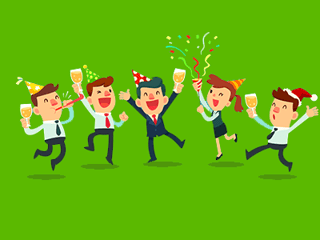 It's as simple as this: recruiters are marketers, and the sooner you embrace this, the more success you'll have in 2019.
Every day, recruiters sell roles to candidates across their social media channels, job boards and company websites – this marketing practice is the core of good recruitment! Upping your marketing game will therefore make your job infinitely easier when approaching passive candidates, and help you bring new clients on board too.
Not only this, but creating a recognisable brand and ensuring your messages resonate across multiple platforms is what wins recruiters new business – get this right, and you'll definitely have an advantage over your competitors.
"I'll work as a team on every hire"
Everyone thinks they're great at team work (bet you've seen the phrase 'works well in a team' on CVs enough times to make your eyes roll), but are you as much of a team player as you think you are? And are you collaborating effectively?
Recruitment is a social activity, and working as a team on every hire will make you more placements. Ensure that the rest of your team know every role you're hiring for, share potential candidates and share every new opportunity on your professional social media accounts to increase candidate reach for every role. The more team-minded you are and less focussed on owning your best candidates, the more success your team will have overall.
"I'll never ghost a candidate again."
You might think you've never ghosted a candidate, but unfortunately the stats suggest otherwise. Let's make 2019 the year where recruiters get their reputations back: We already work hard, we thank candidates for their time and provide feedback to whenever we can; but it's time to step it up a gear.

Next year, go the extra mile, be transparent with your processes, keep candidates in the know and avoid sending any generic emails to unsuccessful candidates! What goes around comes around, and it's time to make ghosting in recruitment a thing of the past.
"I'll get more creative with my processes"
Most recruitment processes look pretty similar: job advert, CV screening, telephone interview, face to face interview, hire. But recruitment is a competitive game, and this age-old process is no longer good enough to keep highly sought-after candidates engaged.
2019 is your chance to start injecting a bit of creativity into your sourcing, engagement and recruitment processes. Commit to learning about new tools, immerse yourself in new social platforms, and really throw yourself out of your recruitment comfort zone.
If you're feeling really adventurous, you could even try recruitment speed-dating or hosting an open day for roles that you expect to have large volumes of applicants, and work in some unique incentives like gifts or rewards – these could include gift cards or travel passes for the best covering letter of the day, as well as smaller, less formal treats for the strongest handshake or best use of eye contact. The more creative you are with your processes, the larger your pool of engaged candidates will be that you can dip into each time you bring in a new role.
"I'll keep my database in order"
Making a commitment to keeping your database accurate and up to date should be an important addition to your resolutions too – especially with GDPR just around the corner!
Make a resolution to clean up your database and, most importantly, keep it tidy. An up-to-date database is an engaged database, and this will not only make you GDPR-ready, but it'll also help you recruit better as you'll be more in touch with the candidates on your system.
2019 is set to be another competitive year, so let's make this the year you actually keep your resolutions! Setting yourself some solid personal KPIs that reflect your own work processes is the next step towards ensuring 2019 is your best performance year to date. Download our eBook below for some great tips on how to do this.
Heidi Gardner
Heidi is PhD student at the University of Aberdeen. Her research focuses on the issues surrounding the recruitment of patients into clinical trials.
Subscribe to our blog and receive top content to help you reach, engage and recruit more effectively!