Forward-thinking recruitment agencies are all going agile these days. But one thing that's often overlooked when businesses make that shift is the important role technology can play in embedding agile working into your business.
Using the right technology can make going agile easy and, most importantly, make it stick.
Here are a few ways you can use tech to become an agile recruitment agency.
1. Use your CRM to identify your sprint goals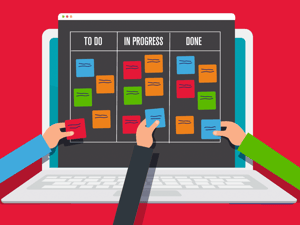 Agile businesses work in blocks called 'sprints'. A sprint is a short-term project that a team – often cross-functional – will focus on achieving over a three-to-six-month period.
But how do you decide what your agency's sprint goal should be? Your CRM can help you decide.
If you want to get the most out of your agile sprint, you need to choose a goal that can be executed in a short-time period and that will have a measurable positive impact on your business.
Luckily recruitment is a numbers business, so you'll already be measuring your candidate sources, client retention and placement numbers and revenue inside your CRM. These numbers will give you insights into which channels are helping you make fees, and which channels need work.
For example, are you pulling in enough applications through your recruitment website? If your jobs page isn't converting as many candidates as other sources, rethinking your candidate web journey would be a great sprint goal for your business to focus on.
2. Keep everyone connected with communication tools
A key part of going agile is being able to share information across the business in an instant. You need to be able to communicate change, allow for cross-collaboration and streamline your processes so that decisions can move quickly – and good communication tools are essential to that.
There are loads of tools you can use to improve communication within your business. Here's a few of our favourites:
Trello is a collaboration tool that allows your recruiters to work together on projects. Tasks are managed as 'cards' that are moved along the project board as they reach certain stages of completion – this is known as the Kanban methodology.
It's really easy to use and because Trello runs in your web browser, everyone can access it.
WhatsApp
You'll already know WhatsApp as a personal chat tool – but did you know WhatsApp is great recruitment tool too?
Recruiters are on their phone a lot, so you can be confident this is a tool your team will use. It's perfect for keeping communication going if your recruiters are attending / running recruitment events – and it makes it easy for them to send pictures to your marketing team to promote what your recruiters are up to. This makes WhatsApp particularly useful you're trying to improve networking as part of your agile goals.
Zoom
Thanks to lockdown, we're all pretty familiar with Zoom – an online meeting platform you can host group meetings from your web browser.
It's particularly useful for large agencies as it can host meetings of up to 100 people. It's also perfect if you're inviting participants from outside your agency to a meeting as you just need to send them a link to join. This makes Zoom great for company-wide communication and involving your clients with your agile projects.
Teams
Teams is an online video and chat platform you can use for meetings and more. It's great for agile working as you can record any meeting, save minutes and documents in the 'meeting notes' section of a planned meeting so everyone can refer back to what was discussed, even if they missed the call.
As Teams is a Microsoft tool, it links directly to your Microsoft email account, so you can manage diaries and meeting times all within Teams too.

It also has a great Wiki function for hosting all your process documentation online. Which takes me to my next point…
3. Host your process documentation online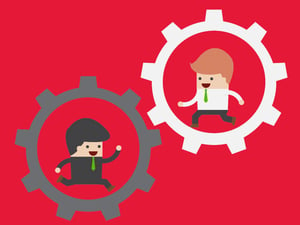 In an agile business, your core processes need to be treated like a living, breathing thing so that they can evolve as the market changes.
Hosting all your process documentation in one place and constantly referring back to it and editing as you go is important if you're going to be adaptable. This way, you bring your processes to the core of your business and constantly improve them as you go.
A cloud-based document library like shared folders (you'll need a VPN to connect if your team work remotely), Google Docs or the online Wiki unction in Microsoft Teams to store all your core processes online. You can separate the document folders by department and easily send links to updated processes to your teams to make sure everyone reviews them when changes have been made.
It's a good idea to involve your recruiters in updating and perfecting your processes over time so they buy into the practice.
Creating a knowledge-sharing source like this will save your business hours in training time and ensure knowledge never leaves when employees do.
If you want to learn how agile recruiting can give your agency a competitive edge and how the steps to get started, download the eBook below.
Sophie Cunningham
Sophie is a Content Marketer here at Firefish! After working as a 360 Recruiter she found her perfect niche here at Firefish writing about recruitment.
Subscribe to our blog and receive top content to help you reach, engage and recruit more effectively!