Facebook has over a billion users. That's a lot of potential candidates - and you can bet that a huge number of them aren't on LinkedIn. Why not get their attention on Facebook? Posting an ad for your recruitment agency is easier (and cheaper) than you think!
Here is a step-by-step guide on how to set up a PPC (Pay-Per-Click) ad on Facebook.
Step 1: Getting Started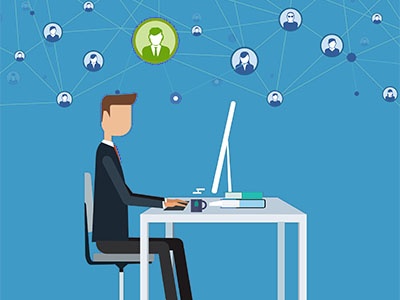 Log in to Facebook and click "Create an advert" at the right of the page. From there it will ask you to choose a destination and since you're linking to your recruitment website, click "Search by URL."
Step 2: Your Advert
After inputting the URL of your job or website, it's time to decide what you want your Facebook ad to say. Try using a provocative headline to grab attention, e.g. "Underpaid in your development job?" with a follow-up description encouraging action, e.g. "Find out if we can hook you up with something better."
This part also allows you to choose an image - either an automatically generated preview or one you upload yourself. Try to avoid your company logo – go for something more appealing to your potential candidates. For example, if you're recruiting for teachers in Australia, you might want to try a picture of an inviting Australian beach!
Once you've uploaded your image, you can see a preview of how it's all going to look: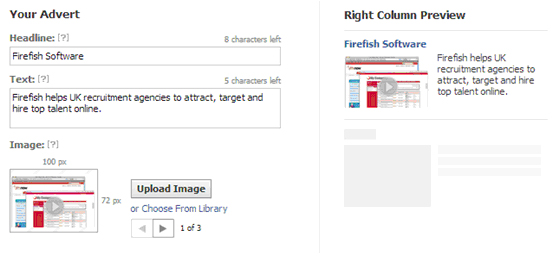 Step 3: Choosing Your Audience
You can decide who sees your ad based on age, gender, location and hobbies/interests. Be sure to specify interests. If you're recruiting for Marketing Managers, for example, then you'll want to specify an interest in marketing. Once you type marketing into the "Precise Interests" box you'll see a drop down showing the potential audience. Take a look: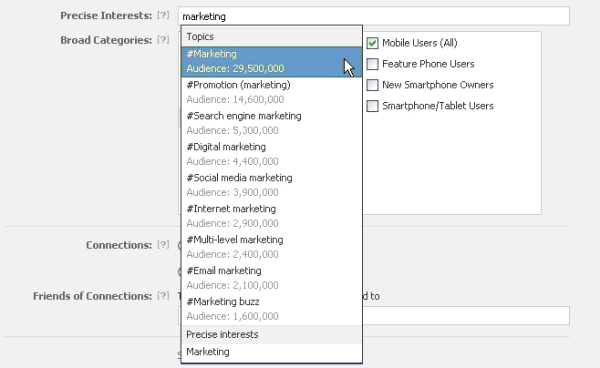 As you can see there is a potential 29.5 million Facebook users who could see the ad based on their interest in marketing. Facebook ads are beginning to look good, aren't they?
After that we have the "Broad Categories" which allow you to be even more specific in your targeting. These range from the type of activities the potential candidate likes to get up to e.g. Cooking, Event Planning etc., to whether you want the audience to include mobile users. The more specific you get, the smaller the audience will be – but what you lose in the size of the potential candidate group you gain in specificity and accuracy: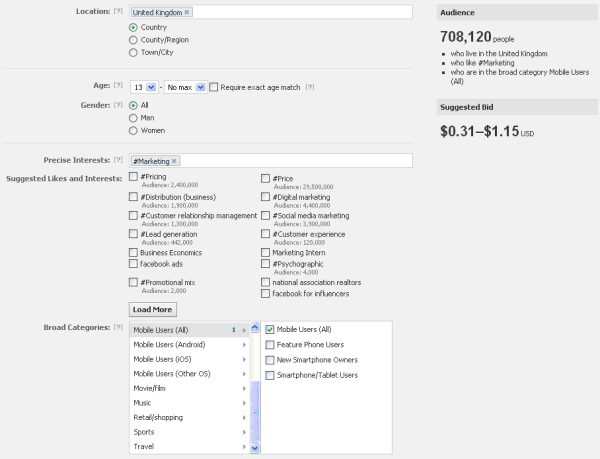 Step 4: Campaign, Pricing and Schedule
You'll need to select the basic info of the currency type e.g. GBP, the account country e.g. UK and account time zone e.g. Europe/London.
Next you have to give the campaign a name – best to keep it as something straightforward like "May Gas Engineer Recruitment Ad."
Then set the Campaign Budget: you can either pay per day e.g. £5 a day or set a lifespan budget e.g. £350. Setting it per day is most suited for an open-ended campaign that doesn't have a specific end date, while a lifespan budget is best suited to a campaign that you know when it is going to start and end: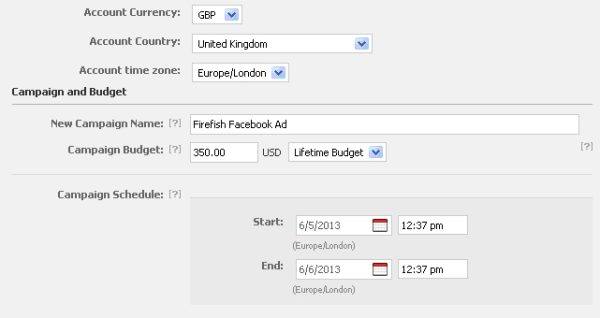 Finally we get to the Optimisation and Pricing sections. You will want to select "Optimise for clicks" and then "Manually bid for clicks." This means you will be charged only the amount you've specified when someone clicks on your ad. As you can see below, you need to enter an amount within the range given to make sure it gets seen by enough potential candidates – this is calculated based on what other recruitment agencies are spending on similar ads.

Step 5: Review Your Advert
Once you've done all that, click on "Review Advert" at the bottom of the page. This allows you to see exactly what the advert will look like as well as give you an overview of your advert audience, bid type, budget and duration. If you're happy then click "Place Order" to pay.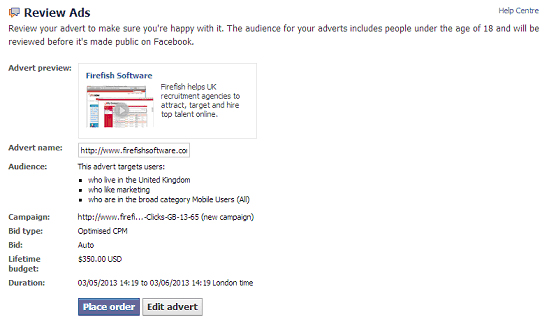 Step 6: You're Done!
Now it's time to sit back and let your ad bring in some fresh candidates!
Ailsa Partridge
Ailsa is a technical writer and solutions engineer working at Instructure in London.
Subscribe to our blog and receive top content to help you reach, engage and recruit more effectively!