Our star candidates are our bread and butter, which is why you need to do absolutely everything in your power to convince them that your agency is the one to place them throughout their entire career – not just their next job.
So what can you do to make sure your best candidates are placed by your agency and your agency only?
Cover your niche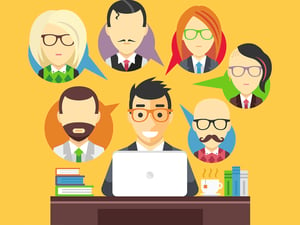 If you've got your recruitment niche fully covered, your best candidates should have no reason to speak to anyone else when looking for a move (or even when they're not actively looking).
Focus on making yours the go-to agency within your niche so you have all the best roles in your market and the candidate knows that if there's an opportunity worth knowing about, you'll already be working it.
News travels fast in recruitment and being the go-to agency will bring referrals with it.
Take personal branding seriously
Ensuring you have a strong social presence can work wonders for your agency (as long as your reputation is sound, that is!) and staying on your candidates' social media radars will help keep you front of mind.
Remember that in a world where you and your clients stalk investigate candidates on social media, candidates will be sizing you up just as much! Let them see that you're a trusted and respected industry expert and this will set you apart from the competition.
Always focus on the candidate's best interest
Finding out why a candidate is leaving their current position and what their pain points are is much more important than jumping in to find them a new job as quickly as possible.
And this is because the better you understand a candidate's pain points, the better fit you'll find for them, and it also creates an emotional contract where they will feel they want to keep coming back to you because they know you have their best interests at heart.
Never focus on the fee – if the job is right, you'll get your fee. and are likely to pull in referrals from other great candidates in their network too.
Choose long-term wins over quick wins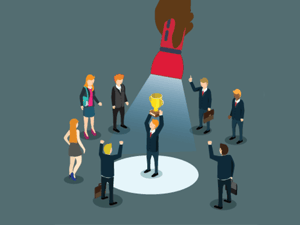 So, a candidate crosses your desk who looks like a real purple squirrel, but if you're being totally honest with yourself, they fall slightly outside of your niche.
Rather than scramble around trying to spec them out to prospects you've never even spoken to before just to bag the fee for yourself, refer the candidate onto someone else within your agency who knows that niche better.
Sure, it might mean missing out on the fee this time round, but it keeps the win within your agency (and that's what team-playing is all about, right?). It also means the candidate will respect you and recommend you to their network as you've demonstrated you can put their interests before your own.
These are the kinds of behaviours of a real long-term winning recruiter.
Time it right
Using your recruitment software effectively means you'll be able to cover all your top candidates and reach out to them the minute the time is right for them. Candidates want you to send them relevant information about jobs or industry changes and the second they click through to one of your job alerts, you should be ready.
As we all know, timing is everything in this game – make sure you lay the groundwork in your CRM so you're able to reach out to top talent before your competitors do.
Stay close throughout the entire process – and beyond
This might be my final point but it's actually one of the most important ones to think about if you want to make sure your top candidates don't stray to other agencies: Stay close to your star candidates and always provide the best candidate experience possible from that very first point of contact you make with them.
From assisting with job matching, prepping them for interviews, managing the job offer process and ensuring the candidate always gets the information and feedback they're looking for – these are all stages where the candidate will need you to support them. And if you pull this off every time, you'll always be the first person they think of when they're looking for their next move.
We've got an eBook that looks at what you can do to make your hiring process much leaner. Click below to download your free copy!
Alan McFadden
Alan is the Associate Director of Growth at Firefish. An agency recruiter in a former life, he loves helping recruiters find ways to recruit smarter.
Subscribe to our blog and receive top content to help you reach, engage and recruit more effectively!