Whether you've just started up your own recruitment agency or you've been building your empire for years, have you ever taken a step back to ask yourself the all-important 'why' questions of running a business?
Why does my business exist?
Why do we offer the services we offer?
Why do clients and candidates choose us over other agencies?
The answers to these questions like this will reveal what gives your agency a competitive edge and help you build a company story that will help your team win business.
Many recruitment businesses will work tirelessly at building a name for themselves but will be disappointed by the results because they don't understand and live their business's raison d'etre.
Follow this 6-step process to help you discover what makes you special, and use your new story to build your name and brand on the market.
Step 1: Understand your target audience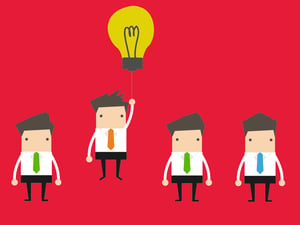 Customers are at the core of any business, but as recruitment is a people business, they are at the core of absolutely everything you do. So, to really understand the 'why' of your agency, you need to understand your market first.
Make a list of what you know about your target candidates and clients, what their needs are and how your agency addresses those needs. Remember that as an agency, you will have two very different audiences – your clients and your candidates. And in our candidate-driven market, they're of equal importance to your business.
Step 2: List what you think is great about your agency
Start by asking yourself what you think you're good at. Is it to do with the recruitment services you offer? The rich network of niche candidates you work with? Or even, something outside of recruitment that offers value to your audience.
Whatever you think your unique selling point (USP) is, please don't let it involve offering low fees!
Undercutting your competitors is not something to shout about – it's not good for the industry and eventually, someone else will just come along and undercut you back! It's a dirty game, so stick to offering a fair fee and focus on offering a USP you can be proud of.
Step 3: Look for confirmation
OK, so this can be a tough one to swallow, but sometimes what we think are our USPs, aren't actually our strengths at all.
To confirm that your strengths actually lie where you think they do, look for proof.
Data can tell you clearly if you really are excelling in the areas you think you're great at, and reveal hidden strengths in areas you weren't aware of.
For example, you might think it's your strong network of tech candidates that attracts people to your agency, but maybe your CRM says you've made a lot more money placing candidates in Finance or Sales roles the last few years?
Also, what do people who have worked with you say is great about you? Take this feedback seriously!
Reviews can give you great insight into what actually wins you business in practice so pay close attention to what your customers have to say (whether it's good or bad). The first place to look would be your reviews on your Google My Business page but if this is looking a bit empty, reach out personally to your best clients and ask!
Step 4: List out what your competitors are good/bad at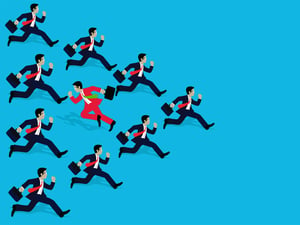 Once you have a list of what you think are your USPs, map these against your competitors. I see far too many agencies saying 'we are honest', 'we care', 'we are specialists in finding xxx skills,' and your clients will be seeing the same thing. How are you different?
Knowing where your competitors fall short is how you identify gaps that you can use as opportunities to win business.
And it's not just about looking at your competitors' weaknesses, but their strengths too. One thing I've always noticed about the recruitment industry is how much we refuse to acknowledge what our competitors are good at and what we can learn from them.
So list out ten of your main competitors and name three things they do well and three things they do badly.
Competitor analysis is something that businesses in every other industry do, and recruitment should be no different!
Step 5: Look at industry trends
Now take a step away from all the recruiters on your radar and think more about the bigger picture: Is there anything you can do that speaks to new trends on the market?
For example, are you using tech in a way that no one else is yet? Are you taking risks that speak directly to those at the forefront of your niche?
If so, make sure these have a place on your list from step 2 but if not, is there anything you could implement that would push you to that crest of the recruitment wave and make you an agency to watch?
Step 6: Use this information
Now that you have all this invaluable information at your fingertips, use it to develop a solid company story that will influence literally everything in your business, from your sales strategy and growth plan, to your key messaging and marketing.
What are your agency's real strengths and opportunities to offer something different in this highly-competitive recruitment market?
We've created an eBook that will help you choose a differentiation strategy that will help your agency stand out for the right reasons. You can download it below.
Wendy McDougall
Wendy McDougall is Chief Fish of Firefish Software. In her spare time, you'll find her playing squash or feeding her inner geek with the latest technology!
Subscribe to our blog and receive top content to help you reach, engage and recruit more effectively!