To find and place talent in this candidate-driven market, you've got to armour yourself with the best tools and tactics to attract, engage and convert your candidates into viable placements.
The bad news is that any candidate that's actively looking for work will have a string of recruiters calling them out of the blue, or firing endless LinkedIn InMails and emails their way. To capture and hold their attention you need to do things differently. That's where SMS comes into play!
Here are 5 solid reasons to give it a shot (you can thank us later!):
1. Everyone is glued to their phone
It should come as no surprise that people spend an average of 4.5 hours on their phones every day. We're all glued to our devices making it easier than ever to instantly grab a candidate's attention.
There's no need to hope a candidate logs to refresh their inbox, or pray that they won't screen your call because of a new caller ID: Sending SMS messages is an easy and quick way to get through to them.
Better yet, research tells us that candidates check their phones 58 times a day and 30 of these instances are during work hours. This makes SMS texting one of the most direct and immediately effective ways to reach candidates at any time of day.
Without these pesky barriers, there's no need to work out when is the best to contact candidates out of hours or spend time crafting a perfect email. Instead, you can hit send from your CRM and be sure your SMS comms will reach them immediately.
2. Send bulk SMS campaigns in a matter of seconds
In 2022 good candidates are only on the market for around 10 days. This presents you with the challenge of finding talent to fill a role quickly - and even faster than your competitors can!
The clock is ticking so you really can't afford to spend a couple of days calling 100 candidates. Sending out a bulk SMS campaign to 100 well-suited candidates in your CRM would take merely seconds! This leads us nicely into our next point...
3. Tech does the hard work so you don't have to
When we talk about texting candidates, we're not talking about sitting down with your phone and manually hitting send on over a hundred mobile numbers. Every great CRM (such as Firefish) will have a top-rate SMS functionality that makes setting up and sending SMS campaigns simple.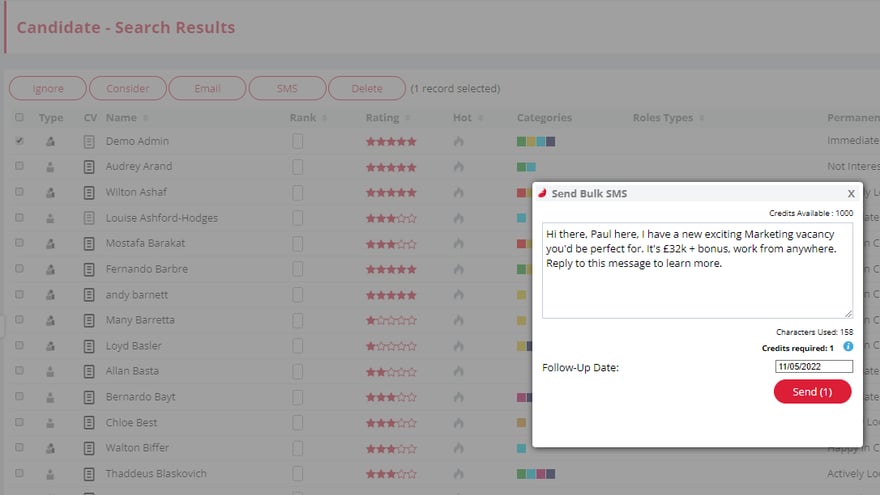 In a few clicks, you can target your Talent Pools or segment your SMS list based on location, skills, engagement levels and more. With tech like Firefish by your side, not only can you send SMS in bulk but you can reap the benefits of 2-way integration and tracking. This means you can both send and receive SMS within the Firefish system.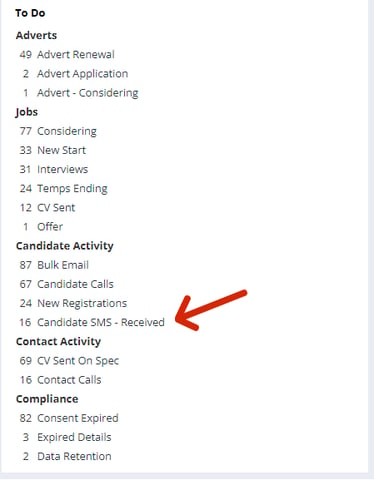 This real-time functionality ensures replies appear on your dashboard where you have instant access to candidate information and can manage your SMS campaigns easily.
4. SMS open rates are better than email
Email campaigns will always have a strong place in recruitment but consider this: SMS messages have a 98% open rate compared to emails that average 20%. People are curious and glued to their phones. Use this to your advantage and reap the benefits of SMS!
5. A proven way to sell in under 160 characters
While sending SMS messages to your candidates could never replace the human aspect of your job, it's a fantastic tool for reaching a lot of candidates quickly and getting them excited for your roles.
Something as small as an SMS is enough to hook in candidates and get them excited about a role. In fact, SMS campaigns have an average of 19% CTA. To achieve maximum engagement, it's crucial to make every character count. Use them to sell the role, the salary and the benefits. But remember to keep your messaging simple, to the point and engaging. At this stage, you're trying to pique their interest, so stick to the USPs for maximum engagement.
Looking for more tips on how to navigate today's market and make more placements? Download the eBook below.
Paul Briman
Growth Specialist Paul was a Principle Consultant in the tech sector before joining Firefish. He loves changing the way agencies recruit with software.
Subscribe to our blog and receive top content to help you reach, engage and recruit more effectively!