From social media platforms like Facebook, Twitter, and even Snapchat, to telephone calls, and of course email, it seems like there's a never ending list of ways to reach candidates.
But there is another option, one that's often overlooked by recruiters – SMS messaging, or to put it more simply, texting. Here are 5 good reasons to use SMS when communicating with candidates.
1. Everyone has a Mobile Phone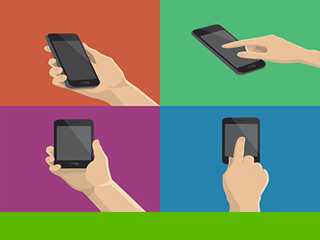 It's almost impossible to imagine a modern person who doesn't have a mobile phone in their pocket.
Two thirds of UK adults (or 66%) own a smartphone, and 90% of 16-24 year olds own one. For the 55-64 year old age range, ownership has doubled from 19% in 2012 to a current high of 50%.
People from all age ranges are glued to smartphone screens making SMS texting one of the best ways to reach candidates. It's certainly immediate, and it doesn't require candidates to log in to emails or social platforms – they simply need to glance at their device.
2. Doesn't Rock the Boat
For many candidates, job hunting is only a part time job. The rest of their time is spent working at their full time, paying job and they don't want to lose it. So discretion is a must. Sending an SMS instead of calling them on the phone means that you can contact candidates throughout the day without worrying about jeopardising their current position.
3. Quick Updates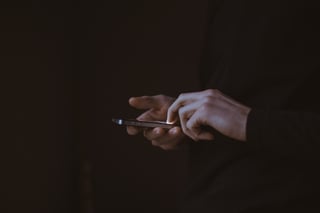 A text message is a simple way to update candidates on the status of their job hunt. You can keep them in the loop easily, and there's none of the wasted effort of calling and missing them, or leaving a message and hoping that they've got it.
4. Reach More Than One Person at Once
This one isn't specific to SMS texting, and you can of course send out mass emails to candidates, or add people to a group conversation on most social networks. However, just like with other communication mediums, SMS lets you reach multiple people at once with tailored messages.
If you understand your audience, and who your candidates are, you can better determine the most effective channel to reach them on.
5. It Suits Candidates
As we've already touched on, texting is an informal medium, letting you reach candidates on the platform that suits many of them best. Candidates aren't quite as turned off to text messages as they are to their email inbox thanks to the long list of junk mail that arrives every day.
Some Things to Keep in Mind
SMS is limited in terms of the amount of information you can share. So it's best to develop a relationship with candidates via another channel first, before moving to texting as your primary communication tool.
Even then, it's worth developing a blended approach, and using texts to arrange meetings and phone calls with candidates at mutually suitable times. SMS isn't the answer to the question of how to reach candidates, but it is an effective tool to add to your toolkit.
Do think about how you compose your text messages. If it's not a simple conversation with a clear call to action, then you'll run the risk of putting candidates off – ironically the exact problem that SMS texting was supposed to solve.
Using SMS will save you time, keep your communication costs down, and help you to fill vacancies quickly. Candidates can be reached easily, and it takes the pressure off them to respond immediately. It makes communication simpler and easier leading to a better return on your investment in terms of time and effort.