There's no doubt about it – the recruitment industry is booming. With a reported 21% growth in new recruitment businesses setting up this year, competition has never been so fierce. To ensure you stand out as one of the best recruiters in the business, here are a few key questions you should always be primed to answer.
With so much choice when it comes to choosing a recruiter to work with, candidates, clients and prospects will expect you to be able to have answers on the table for every one the questions below…
Questions from candidates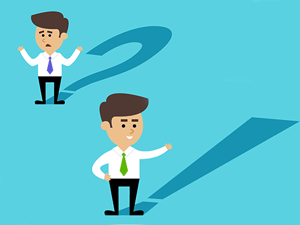 One reason the recruitment industry is booming so much at this moment in time is that the market is very candidate-driven.
As much as 73% of candidates in the current market are passive job seekers – they're in no rush to make a move to a new employer.
Therefore, it's up to you as the recruiter to sell the opportunity to great talent, and the way to do this is to show you've done your research by being able to answer the following questions without hesititation.
1. "What was it about my history and background that made you think I'd be so suitable for this job?"
Some candidates who've worked with recruiters in the past may have been burned by those just out to grab CVs to hit poorly designed KPIs. Whether you've been a victim of this or not, most candidates are already wise to this bad practice – they know their value in the current job market and want confirmation they're not just a number to you.
The best way to win over a candidate is to show you've done your research and can genuinely see an opportunity for a right-fit placement. So before you pick up the phone to call a candidate about a job you have on, ask yourself what parts of their CV or LinkedIn profile specifically matches the spec, and be prepared to feed this back to them.
2. "Why is the position you're recruiting for open right now?"
Similarly, candidates may throw you some curve-ball questions concerning the role to establish if you really are the real deal.
If you're a recruiter who's only concerned about your targets, you're a lot less likely to ask hiring managers the 'why' questions that great recruiters care enough to ask.
If you're unable to tell a candidate why an opportunity has come available, this will instantly ring alarm bells to them, so don't embarrass yourself by tripping at the first hurdle.
Questions from clients
A below-par recruiter will be on a quest to fill roles as quickly as possible purely to meet targets (as short as that quest will be, as these people don't last long in the business!).
They don't pay anywhere near enough attention to whether an opportunity is a genuine right fit for both client and candidate, and clients are savvy to this.
However, there are a few questions your clients may throw at you to ensure you're giving the role the research and care it rightfully deserves so you can form a trusting relationship. Clients need (and deserve) more than just bums on seats!
3. What's the supply like at the moment for [position] roles in [location]?"
Your clients look to you as an expert in the job market, and they're relying on you to tell them when their expectations are unrealistic. T
herefore, you should be ready to answer any questions they have concerning supply for the role they've specced out to you.
If you're an expert in your niche, it's likely you'll already know the answer to questions like these and can answer off the cuff, but if not – have the courtesy of doing your research!
4. "Is this a realistic salary bracket to be looking at for a [level] role in [industry]?"
Similarly, an exceptional recruiter should be in a position that they can advise clients on current market rates for vacancies they have.
It's your job to get to grips with what your candidate pipeline looks like – understand what realistic salary brackets and benefits look like within your industry and why those demands might be changing to reflect industry trends.
Demonstrate that you can think on behalf of your clients and work in partnership with them rather than focussing purely on your bottom line, and your client relationships will flourish.
Questions from prospects
We all know how tough cold calling for new business can be in recruitment. It's a difficult game, made all the more difficult by an increasingly crowded market – not to mention the introduction of GDPR to our BD processes!
Picking up the phone armed with answers to these questions will guarantee a warm response to your cold prospect calls.
5. "What do you know about the company and what we do?"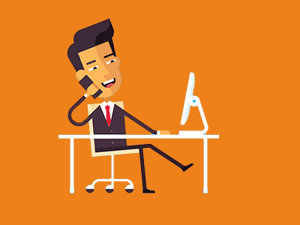 You might think this is a given, but you'd be surprised! It's crazy how many recruiters still pick up the phone to call a prospect when getting word about an opportunity without doing their research first.
Start with the company website, check their social media platforms, Glassdoor reviews, and even do a quick search for local news on any big changes or advances they've made in the last few years. Try to get your head into where they may be looking to grow next, and tailor your pitch with all that knowledge.
Not only should you be able to tell the prospect a reasonable amount of information you've learned about the company when you get them on the phone, but it'll pay off massively if you reach out and warm them up before making that step to pick up the phone.
Show prospects you're interested in building lasting relationships – you're in it for the long haul, not a quick-fix placement.
6. "Do you have a candidate in mind for this role? Pitch them to me."
The recruitment market has taken a sharp turn in recent years. Prospects are no longer interested in hearing about your 10,000-strong database (more than half of which – prior to GDPR – would've been dead data) – they're interested in recruiters who have a small but valuable candidate network that they know inside out.
To cut to the chase, prospects will often put recruiters on the spot and ask them for proof of their great networks: If you know you have that purple squirrel on your books that the prospect is looking for, be prepared to pitch them.
It's not difficult for prospective candidates and clients to screen recruiters. Within minutes of you approaching them they will have made a decision about whether you're someone that will be able to help them with their challenges, or you're a charlatan only in it for the green.
Make sure that you're ready to provide solid, well-researched answers to these questions, and you'll soon be on your way to building a strong professional relationships that will last a lifetime.
Heidi Gardner
Heidi is PhD student at the University of Aberdeen. Her research focuses on the issues surrounding the recruitment of patients into clinical trials.
Subscribe to our blog and receive top content to help you reach, engage and recruit more effectively!