In the UK alone, more than 15 million people listen to podcasts every week. How can your recruitment brand cash in on this massive marketing opportunity?
Creating a podcast that educates candidates in your recruitment niche will help you build brand awareness and position your agency as a thought-leader in your industry.
So how do you get started creating a podcast? The good news is you don't need to be an expert to get it sounding professional.
Here are some of the best tools that make creating podcasts really easy.
1. Audacity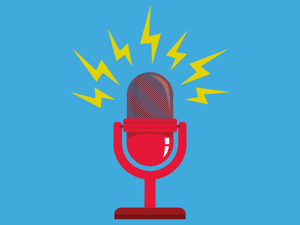 A tool for… recording and mixing podcasts.

Not sure where to start with recording your recruitment podcast?

Audacity is an audio recording and mixing platform that will make your podcasts sound clear and professional. You can record directly in Audacity or upload other recordings to the platform to be edited.

You can cut, edit and mix your recording using a variety of effects including speed, pitch and tempo.
The best thing about Audacity:
Audacity is a great product to use if you're new to podcasting. The software is easy to install and you can get it up and running in less than ten minutes. The product is pretty self-explanatory, so you can get to grips quickly with the basics and start creating podcasts from day one of using the software.

Price: Free
2. ZenCastr
A tool for… recording multiple guests remotely.

ZenCastr is another podcast recording platform, but with a big additional perk: it allows you to record multiple people in different locations with high-audio quality. So it's perfect for recording remote interviews on your podcast.

ZenCastr works in your browser, meaning you don't even need to download the software – all you have to do to create a multi-guest podcast is send a link to your guests and hit record!

The best thing about ZenCastr
If you're interviewing remote guests for your podcast, Zencastr is the perfect tool for you.

It's really easy to use – you just send a link to your guest, click record and once you're finished, a quality audio recording will be compressed automatically and sent straight to your assigned Dropbox account.

If you rely on conferencing platforms (like Zoom) that aren't designed for recording guests, you won't a high sound quality. This means, you'll have to spend time editing to improve the recording afterwards. ZecCastr is software is designed specifically to ensure you get a high-quality recording every time, so you rarely have to do any sound editing afterwards.

Price: Free for up to two guest /3+ guest costs from $18 a month

3. Anchor
A tool for… recording, editing and distributing podcasts.

After recording and editing your podcasts in Anchor, you can post your podcasts to all the major streaming platforms (such as Spotify, Apple Podcasts and Google Podcasts) at one time using it's one-step distribution platform.

The best thing about Anchor

Anchor's all-in-one platform for podcasting functionality means you can go from recording to publish all in one place.

It's connected with a huge number of audio-hosting channels so as soon as you click 'publish', it's available for all your listeners, no matter what app they're using.

Anchor is now owned by Spotify, and the bonus of this is that you also get access to a sophisticated Spotify-style dashboard with stats on your podcast performance.

Price: Free
4. Wistia
A tool for… hosting and distributing podcasts.

Wistia is a video-hosting platform that's now branched out into podcasting.

Just like with its video software, Wistia's podcasting software allows you to upload, brand-up and host your podcasts on your Wistia channel.

You can create an SEO-friendly channel page for your podcasts that you can then embed onto your website. Here's an example of an embedded Wistia channel on our Firefish website: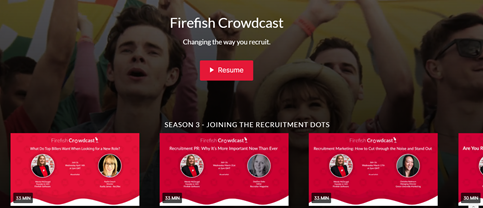 You can also distribute your episodes to all the major podcasting platforms directly from Wistia. And once your podcast is live, you can measure performance using Wistia's analysis tools.

The best thing about Wistia

You can embed your podcasts into your website and other pieces of marketing content, like blogs, so it's easy to drive traffic to your podcast and build an audience.

You can even add CTAs to each podcast asking listeners to leave their email addresses. Plus the analysis tools make it easy to see the results of each podcast you release, so you can plan future podcasts around what you know your audience are interested in.

Price: Free for up to 3 episodes. 3 plus episodes from $99 a month
5. Stereo
A tool for… hosting live interactive podcasts.

Stereo is the new kid on the block and we're all getting pretty excited about it!

How Stereo differs from other podcasting platforms is that the shows are all done in real time and can't be edited afterwards.

Stereo is a cross between a podcasting app and a social media platform: You create a profile and a cartoon avatar of yourself (these are used instead of photos), then follow other profiles and shows.

Stereo encourages social interaction in the same way other social media channels do. If you're listening to a live episode, you can send a reaction emoji (like a heart or a thumbs up), or even send a voice note to the hosts, who can play it and respond.

The best thing about Stereo

Stereo offers a totally new way to engage candidates through podcasting and is a strong indication of what podcasting will look like in the future.

Listeners can tune in live and interact with you, and afterwards you can upload it to other platforms like a regular podcast. This allows you to get live real-time audience participation but also repurpose your content to get maximum reach.

You can even connect with relevant candidates on the app using the search tool. You can search for potential candidates in your niche either through info listed in their bio or by seeing who's following hashtags and other relevant shows in your niche and invite them to connect with you.

This feature isn't available on any other podcasting platform, and it's particularly useful in recruitment as you want to connect with as many people in your niche as possible.

Price: Free
6. Spotify
A tool for... marketing and analysing you podcasts.

We all know Spotify is a music-streaming platform, but did you know it hosts podcasts too?

In the same way you stream your favourite music, you can listen to, subscribe to, download and build list of your favourite podcasts on Spotify too.

When you host your podcasts on Spotify, this gives you access to detailed listener analytics to see which of your podcasts are performing best.

The best thing about Spotify

The biggest perk of hosting your podcasts on Spotify is that it integrates with Instagram, so you can share your podcast episodes in your stories. This is a great way to pull contacts from your social platforms to your podcast and widen your audience.
You also use the sophisticated analysis tools to keep track of which podcasts topics are the most popular and learn about the demographics of your audience.

Price: Free
Just like podcasting, a strong video marketing strategy can help your agency standout and become a thought-leader in your niche. Download the eBook below to learn how to make video part of your recruitment strategy.
Amy McLaughlin
As Senior Digital Marketer at Firefish, Amy keeps our Firefish customers up to date with the latest news from the Aquarium.
Subscribe to our blog and receive top content to help you reach, engage and recruit more effectively!