You couldn't miss TikTok exploding into the mainstream in 2020. The platform went from being the app 14-year olds lip sync on to a global phenomenon with 1 billion active users worldwide!
Its massive success has left businesses everywhere scratching their heads trying to figure out how to use it to promote their brand – and the recruitment industry was no different.
With big global brands struggling to get noticed on the app, you're probably wondering whether it's even worth your time using it for recruitment. So, we're here to give you the pros and cons of recruiting on TikTok – and hopefully give you a bit of a laugh along the way…
Reasons to use TikTok as a recruitment tool
TikTok is great for humanising your brand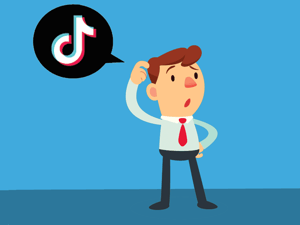 If you're trying to stand out as recruitment brand that doesn't take itself too seriously, TikTok is a great platform to do this.
Creating fun and relatable video content helps you stand out in the market and it's great for employer branding too. Creating some fun cultural TikToks will show potential candidates that your business is a great place to work.
This TikTok from Innocent Smoothies shows you don't need to undermine professionalism to be funny when advertising your brand.
TikTok is packed with young, tech-savvy candidates
Around 60% of TikTok users are Gen Z, making it a great place to promote your brand if you're recruiting for graduates or juniors.
You could create a TikTok promoting your junior roles or get some of your current graduate employees to star in some of the videos.
Just make sure you look up your Gen Z trends first! You could get roasted for using the 'wrong' emoji.
The algorithm does a lot of the heavy lifting
What candidates see on their 'For you page' (FYP) is tailored specifically to them. The algorithm chooses content for you based on previous videos you've 'liked', shared, re-watched or commented on, so your page becomes specific to your interests.
It also shows people TikToks based on their location. So for example, if you're recruiting for roles in Glasgow, using hashtags like #Glasgow or #ScottishTikTok will increase the chance candidates in your geographical niche see it.
This means you don't need a massive follower base to get your content in front of your candidates – TikTok's algorithm will put it in their FYP for you.
But it also means candidates can miss your valuable content entirely because they've been sucked down a wormhole of extremely niche content… like Woodchuck Armageddon?
You can interact with candidates in a creative way
The comments section on TikTok can be just as entertaining as the videos themselves – making them a great place to interact with candidates.
All comments are public for everyone to view, reply to and like. This structure gives you the chance to create an open forum with candidates in your videos, making your brand more approachable and fun.
You can also create TikTok video replies which can become more viral than the original TikTok you posted and expand your reach on the platform even further. TikTok reply videos are a great tool to answer commonly asked questions candidates have about your brand and show them you're keen to engage with them.
You can even use a comment-reply video to get the word out there that you're hiring, like this one:

You can educate your candidates in the 'learn' tab
You might think that TIkTok is all about silly dances, but there's a massive audience that are there to learn too.
On the left of the main screen there's a lightbulb button that takes you to the 'learn' tab on TikTok.
There, you can create some TikToks that educate candidates in your niche in a fun format, so they view your brand as a thought-leader in your field. Or, you could create some interview tips videos for candidates - this will draw in candidates who are actively looking for jobs.
Use the hashtag '#learnontiktok' so it gets flagged as an educational video and is included in the 'learn' tab's feed.
This TikTok on interview tips is a great example of an educational video…
Reasons TikTok isn't a great recruitment tool
It's difficult to get noticed
If you start scrolling through your FYP, you'll notice that most of the videos have thousands or even millions of views.
TikTok will show your video to people who engage with similar content, but if those first few people don't strongly engage, the algorithm will slow to a halt and few people will see your TikTok.
The search results on TikTok are also ranked by number of views, so if your videos don't have many views, few will see them even when searching.
Videos that don't perform well on the TikTok app don't have to be a total waste of effort though: You can always cross-share on other social media channels like LinkedIn where you're likely to get better engagement.
Here are some tips to help your videos blow up on TikTok, so your account becomes 'TikTok famous'…
Your videos don't always appear in your followers' FYPs
Unlike Instagram, even if a candidate follows your TikTok account, this doesn't guarantee your video will appear in their FYP.
Your TikTok followers are likely to see your recent videos in their 'Following' tab, but the trouble is that users spend most of their time in the 'FYP' tab as it's default when you open the app.
So if you successfully drive candidates onto your TikTok account from other accounts like Instagram and LinkedIn or gain followers on the platform organically – you can't guarantee they'll get nurtured on the app.
This means you could spend loads of time building a TikTok brand and gaining followers who'll never see your videos.
Users aren't looking for jobs on the platform
TikTok users are rarely (if ever) using TikTok to look for jobs - it's just not what the platform is designed for.
You can't link out to other sites from your videos, and this makes it difficult to drive traffic to your jobs pages – no matter how many views your TikTok gets.
So even if your TikTok makes your job opportunity look like the most exciting role on the market, it's highly unlikely you'll see a direct impact on application numbers.
It's almost impossible to source on TikTok
If you're in a candidate-short market and trying to find purple squirrel candidates, you probably won't find them on TikTok.
People rarely put their job title on their TikTok profile or in their videos, so searching for candidates in your niche isn't easy.
TikTok isn't LinkedIn - people aren't there to find jobs. So even if you manage to find a great candidate for your role, there's no guarantee they'll be interested.
Although, this TikToker could be worth getting in touch with as he'll need a new job…
Conclusion
TikTok can be a powerful tool to build your corporate and employer branding, but it's not likely to fill vacancies anytime soon.
Cross-posting your TikToks on other platforms like LinkedIn – where your candidates are looking for jobs – is probably the most effective way to recruit using TikTok when you don't have a big following.
But you never know, if you keep TikTok as part of your wider social strategy and keep posting videos, your brand (like others we've seen) could become TikTok famous! Download the eBook below to learn how to put a top social strategy in place for your recruitment business.
Sophie Cunningham
Sophie is a Content Marketer here at Firefish! After working as a 360 Recruiter she found her perfect niche here at Firefish writing about recruitment.
Subscribe to our blog and receive top content to help you reach, engage and recruit more effectively!